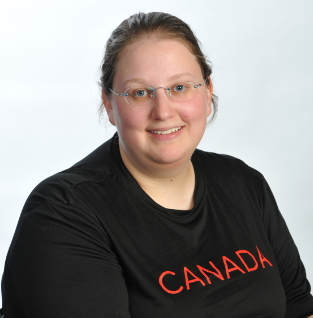 Birthdate: May 11, 1990
Hometown: Montréal, Québec
Residence: Montréal, Québec
Class: BC4
Alison Levine is renowned for her powerhouse strength and the speed at which she has developed within the sport. Alison was recruited into boccia by fellow BC4 athlete, Marco Dispaltro. Prior to her introduction to the sport, Alison dabbled in wheelchair basketball, wheelchair rugby and competitive horse-back riding. Most recently, she competed at the 2019 BISFed Montreal Boccia World Open where she won a gold medal. Now, she spends most of her time training on the court. When she is not training, you can find her cuddling with her service dog, Ghia, while watching a Montreal Canadiens hockey game.
| | |
| --- | --- |
| 2014 | BISFed Povoa World Open – Bronze (Pairs) |
| 2015 | Toronto Parapan Ams – Silver (Pairs) |
| 2015 | BISFed Poznan Boccia World Open – Silver (Individual & Pairs) |
| 2015 | BISFed Americas Team/Pairs Championships – Gold (Pairs) |
| 2016 | Rio Paralympic Games – 5th Place (Individual) |
| 2016 | BISFed Povoa World Open – Silver (Pairs) |
| 2016 | BISFed Montreal Boccia World Open – Bronze (Individual) and Silver (Pairs) |
| 2017 | BISFed Kansas City Boccia World Open – Bronze (Individual & Pairs) |
| 2017 | BISFed Americas Regional Championships – Bronze (Pairs) |
| 2017 | BISFed Montréal Regional Open Championships – Bronze (Individual) and Gold (Pairs) |
| 2018 | BISFed Montreal Boccia World Open – Silver (Individual) |
| 2018 | BISFed World Boccia Championships – 4th Place (Individual) |
| 2019 | BISFed Montreal Boccia World Open – Gold (Individual) |
| 2019 | Lima Parapan American Games – Bronze (Pairs) |
| 2019 | BISFed Sao Paulo Boccia America Regional Championships – Bronze (Individual & Pairs) |
| 2019 | BISFed Povoa Boccia World Open – Gold (Pairs) |