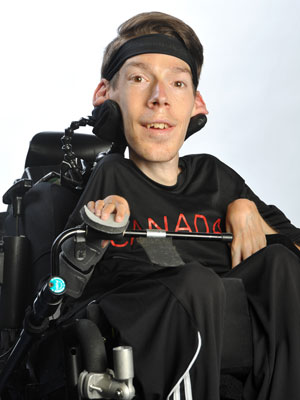 Birthdate: December 16, 1985
Hometown: Arthabaska, Québec
Residence: Verchères, Québec
Class: BC3
Noted for his quick decision-making and ball play on court, BC3 player Éric is dedicated to success in his craft. Introduced to boccia in 2011, he has excelled in the sport, making the national team only two years later. Most recently, he competed at the 2019 BISFed Montreal Boccia World Open where he won a silver medal with his pairs group. Éric enjoys adapted sailing, good food and traveling. Always willing to try something new, Éric is constantly challenging himself, whether it's trying a unique dish or an alternative strategy on the court. In sport, he appreciates the opportunity to visit new places and different people during away competition. His two most recent accomplishments were winning a silver medal at the 2019 BISFed Montréal Boccia World Open and a bronze at the 2019 BISFed Sao Paulo Boccia America Regional Championships in pairs play.
| | |
| --- | --- |
| 2015 | BISFed Americas Team/Pairs Championships – Silver (Pairs) |
| 2015 | Toronto Parapan Ams – Silver (Individual) and Gold (Pairs) |
| 2016 | Canadian Boccia Championships – Silver (Individual) |
| 2016 | BISFed Povoa World Open – Silver (Individual) |
| 2017 | Canadian Boccia Championships – Gold (Individual & Pairs) |
| 2017 | BISFed Montreal Regional Open Championships – Gold (Individual & Pairs) |
| 2017 | BISFed Kansas City Boccia World Open – Silver (Pairs) |
| 2019 | BISFed Montréal Boccia World Open – Silver (Pairs) |
| 2019 | Lima Parapan American Games – Bronze (Pairs) |
| 2019 | BISFed Sao Paulo Boccia America Regional Championships – Bronze (Pairs) |