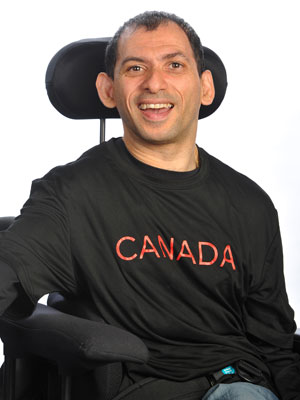 Birthdate: February 12, 1968
Hometown: Dar es salaam, United Republic of Tanzania
Residence: Burnaby, British Columbia
Class: BC1
As a player, Hanif is renowned for his consistency and precision on court, two skills that have contributed to his extensive athletic career. Hanif spent several years as a goalie in power-soccer before focusing his energy on boccia. Over twenty years after attending his first international boccia event, he continues to consistently be ranked in the top 10 in the world in the BC1 classification. Hanif enjoys spending time with his family, dancing, and swimming as well as being an avid football and hockey fan. Most recently, he competed at the 2019 Canadian Boccia Championships where he won a gold medal.
| | |
| --- | --- |
| 2013 | BISFed Americas Boccia Championships – Bronze (Team) |
| 2014 | BISFed Kansas City Boccia World Open – Bronze (Individual & Team) |
| 2015 | BISFed Americas Team/Pairs Championships – Bronze (Team) |
| 2015 | Toronto Parapan Ams – Silver (Individual) and Bronze (Team) |
| 2018 | BISFed Sao Paulo Boccia Regional Open – Bronze (Individual & Team) |
| 2019 | Défi Sportif AlterGo National Open – Gold (Individual) |
| 2019 | Canadian Boccia Championships – Gold (Individual) |