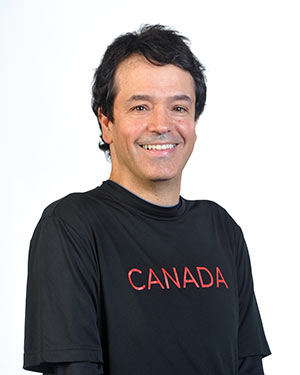 Birthdate: August 2, 1967
Hometown: Montréal, Québec
Residence: St-Jérôme, Québec
Class: BC4
At twice the age of most of his rivals, Marco Dispaltro likes to think of himself as the Gordie Howe of parasports. The Paralympic Games bronze medallist started his wheelchair sports odyssey in 1993 as a rugby player and played until 2004. From 2001 until 2008, he acted as the high-performance coordinator of the Canadian national wheelchair rugby team.
Although it took some coaxing from Head Coach Mario Delisle for Marco to try boccia, once he did, it was love at first throw. His respect for boccia grew exponentially in the first couple of months of training and he's still dazzled by the talent showcased at the elite level. His achievements in boccia include pairs bronze with Josh Vandervies at the 2012 London Paralympic Games and an individual gold at the 2019 Parapan American Games. He won silver in pairs at the 2015 Parapan American Games where he also carried the flag in the opening ceremonies.
Born with muscular dystrophy, Marco has always been a fighter and brings that spirit wherever he goes. He's a fully dedicated athlete who trains religiously, keeping meticulous training reports and striving for perfection. He quickly masters the technical aspects of the sport he does and he's relentlessly looking to get that edge over the competition. "We are not born champions, we become champions," is the motto he abides by.
"The doctors told me 'Marco, your life expectancy is not going to be very long,' but I just scoffed at that," he says. "I did what I wanted to do, I was passionate about it, and I'm going to keep being passionate about sports. Even if I retire, there's a legion of kids out there that want to play sports, and sometimes you don't even know that it exists out there for you."
| | |
| --- | --- |
| 2011 – 2017 | National Champion (BC4) |
| 2011 | Guadalajara Parapan Ams – Silver (Individual) |
| 2012 | London Paralympic Games – Bronze (Pairs) |
| 2014 | BISFed Povoa World Open – Gold (Individual) and Bronze (Pairs) |
| 2014 | BISFed Montreal Boccia World Open – Gold (Individual) |
| 2015 | BISFed Americas Team/Pairs Championships – Gold (Pairs) |
| 2015 | Toronto Parapan Ams – Silver (Pairs) |
| 2016 | BISFed Montreal Boccia World Open – Bronze (Pairs) |
| 2016 | BISFed Povoa World Open – Silver (Pairs) |
| 2016 | Rio Paralympic Games – 6th Place (Pairs) |
| 2017 | Canadian Boccia Championships – Gold (Individual & Pairs) |
| 2017 | BISFed Montreal Regional Open Championships – Silver (Individual) and Gold (Pairs) |
| 2017 | BISFed Kansas City Boccia World Open – Bronze (Pairs) |
| 2017 | BISFed Bangkok Boccia World Open – Bronze (Pairs) |
| 2019 | Lima Parapan American Games – Gold (Individual) and Bronze (Pairs) |
| 2019 | BISFed Sao Paulo Boccia America Regional Championships – Bronze (Individual & Pairs) |
| 2019 | BISFed Povoa Boccia World Open – Gold (Pairs) |