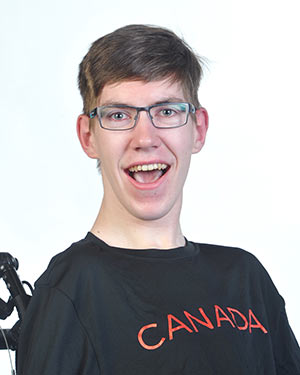 Birthdate: December 5, 1995
Hometown: Montréal, Québec
Residence: Blainville, Québec
Class: BC3
Phillipe Lord loves the game of boccia and has not stopped playing since he picked up a boccia ball at school. When Lord realized he could practice boccia at high level in Montréal, he registered right away. He also loves competing against new opponents. Lord most recently competed at the 2019 BISFed Montreal Boccia World Open where he won a silver medal in pairs. In his spare time, he loves to play board games, watch sports on TV and travel with his family. Lord's dream is to compete at the Paralympic Games.
| | |
| --- | --- |
| 2016 | Canadian Boccia Championships – Bronze (Individual) and Gold (Pairs) |
| 2016 | Boccia Blast National Open – Silver (Individual) and Gold (Pairs) |
| 2017 | BISFed Montreal Regional Open Championships – Silver (Individual) and Gold (Pairs) |
| 2017 | Canadian Boccia Championships – Gold  (Pairs) |
| 2017 | Boccia Blast National Open – Bronze (Individual) and Silver (Pairs) |
| 2018 | BISFed Sao Paulo Boccia Regional Open – Silver (Pairs) |
| 2018 | BISFed Povoa World Open – Silver (Pairs) |
| 2018 | Boccia Blast National Open – Gold (Individual & Pairs) |
| 2018 | Canadian Boccia Championships – Silver (Individual) |
| 2019 | BISFed Montreal Boccia World Open – Silver (Pairs) |
| 2019 | Lima Parapan American Games – Bronze (Pairs) |
| 2019 | BISFed Sao Paulo Boccia America Regional Championships – Bronze (Pairs) |