National Level Boccia Returns at 30th Annual Boccia Blast Competition
Published on: October 4, 2021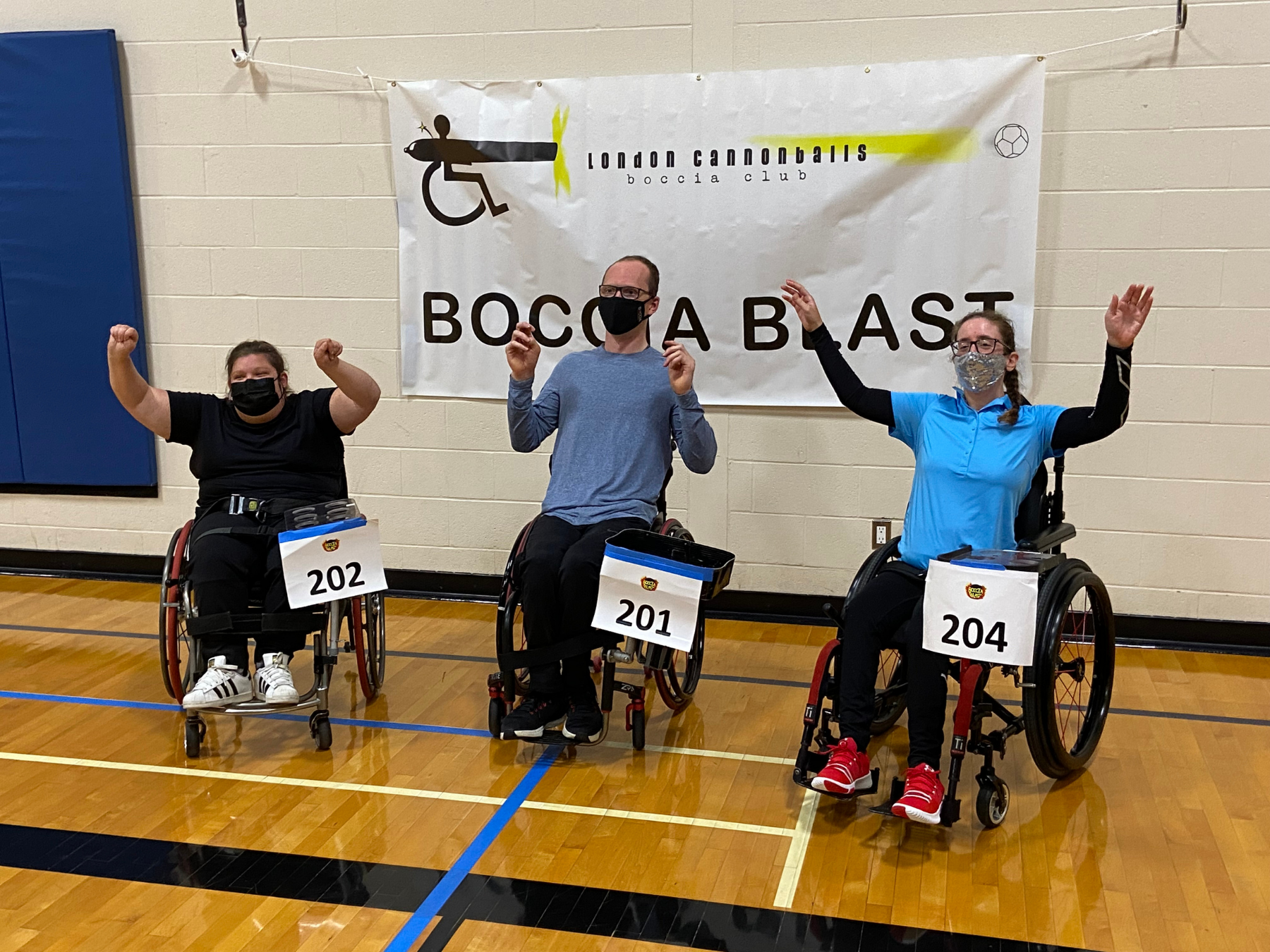 Three Newfoundland athletes (left to right: Hayley Redmond, Mike Mercer, Kristyn Collins) swept the podium in the BC2 category
London, ON (October 4, 2021) – The London Cannonballs recently hosted the 30th annual Boccia Blast, where athletes in classes BC1, BC2, BC3, BC5, and Open had the opportunity to gather national ranking points at the first sanctioned event in Canada in almost two years.
A new junior division was added to the event with the help of the Ontario Cerebral Palsy Sports Association and Thames Valley Children's Centre. Five juniors in the area competed against one another in their very first boccia event ever. London Cannonballs Co-Chair Tammy McLeod is hopeful they will be seeing these juniors at future events in the coming years.
Boccia Canada's BC1 and BC2 Coach, Ed Richardson (Brampton, ON), expected there to be some challenges at the national tournament given it's the first competition since COVID halted all events: "You could see that most athletes had a bit of rust at the beginning. As the tournament progressed, the games continued to show better quality of shots. By the end of tournament everything fell into place with the more experienced athletes prevailing."
In the BC1 class Lance Cryderman (Sudbury, ON) won gold with a 6 and 0 record.
In the BC2 division, Newfoundland and Labrador swept the podium. Mike Mercer (St. John's, NL) took gold and Kristyn Collins (St. John's, NL) beat out current National Boccia Training Squad athletes Hayley Redmond (St. John's, NL) and Dave Richer (Montréal, QC) to win a silver medal. Redmond rounded out the Newfoundland group with a bronze medal.
One of the highlights of the tournament was watching Josh Gautier (St. Catharines, ON) shine in a different class than usual. Gautier was recently reclassed from BC4 to BC3. The BC3 class is unique in that players use a ramp to propel the ball and score points versus throwing or kicking. This is the first national competition that Gautier has competed as a BC3 and he impressed everyone with a fourth-place finish behind five-year National Boccia Training Squad athlete Marylou Martineau (Québec City, QC). He beat out seven other BC3 athletes, all of whom have been a mainstay in the BC3 class for a few years. Gautier played in the semifinals versus the number one BC3 player in Canada, Eric Bussière (Verchères, QC). The game was tight as Gautier had a 2-1 lead going into the last end, but Bussière scored 2 points to prevail.
The BC5 and Open class saw the number one BC5 player in the country, Giovanni De Sero (Guelph, ON), take the gold medal followed by Open class players, Gord Letke (Oshawa, ON) and Kylie Waters (Victoria, BC). De Sero ended the event with a 5 and 1 record.
McLeod, was happy with the outcome of the tournament: "I am proud of all the athletes because they played awesome despite the lack of training in the last 22 months! It was a fierce competition. Of course, there were some rusty patches at the start of the competition, but then it was like the athletes never left the gym! We would like to thank all of the referees, classifiers, and volunteers who all did a fantastic job!"
The Cannonballs will be hosting Boccia Blast again next year as well as the 2022 Canadian Boccia Championships in London, Ontario.
To learn more about Boccia Blast visit the London Cannonballs website here.
Final Results
BC1
Gold: Lance Cryderman (Sudbury, ON)
Silver: Andrew Morisette (Sudbury, ON)
Bronze: Chris Halpen (Victoria, BC)
BC2
Gold: Mike Mercer (St. John's, NL)
Silver: Kristyn Collins (St. John's, NL)
Bronze: Hayley Redmond (St. John's, NL)
BC3
Gold: Eric Bussière (Verchères, QC)
Silver: Philippe Lord (Montreal, QC)
Bronze: Marylou Martineau (Quebec City, QC)
BC5/Open
Gold: Giovanni De Sero (Guelph, ON)
Silver: Gord Letke (Oshawa, ON)
Bronze: Kylie Waters (Victoria, BC)
---
About Boccia Canada
Boccia Canada is the boccia delivery arm of the Canadian Cerebral Palsy Sports Association (CCPSA), the National Sport Organization for the Paralympic sport of boccia. Boccia Canada is focused on providing athletes and individuals of all ages and skill with the chance to play a unique Paralympic sport. CCPSA collaborates with partners to increase the participation of Canadians with cerebral palsy and related disabilities in sport and physical activity, while leading, developing and growing boccia from grassroots, to producing World and Paralympic Champions.
---
About boccia
Boccia is a Paralympic sport of precision and strategy similar to lawn bowling or curling, played by athletes with Cerebral Palsy, Muscular Dystrophy and related disabilities. It is one of only two Paralympic sports that do not have an Olympic counterpart. Athletes compete in one of six sport classes based on their level and type of disability: BC1, BC2, BC3 BC4, BC5, and Open.
---
Media Contact
Holly Janna
Communications and National Team Coordinator, CCPSA
Email: hjanna@bocciacanada.ca
Phone Number: 613-748-1430 x3 | 514-944-5193