New Faces on the Podium in the Individual Event of the 2021 Canadian Boccia Championships
Published on: November 20, 2021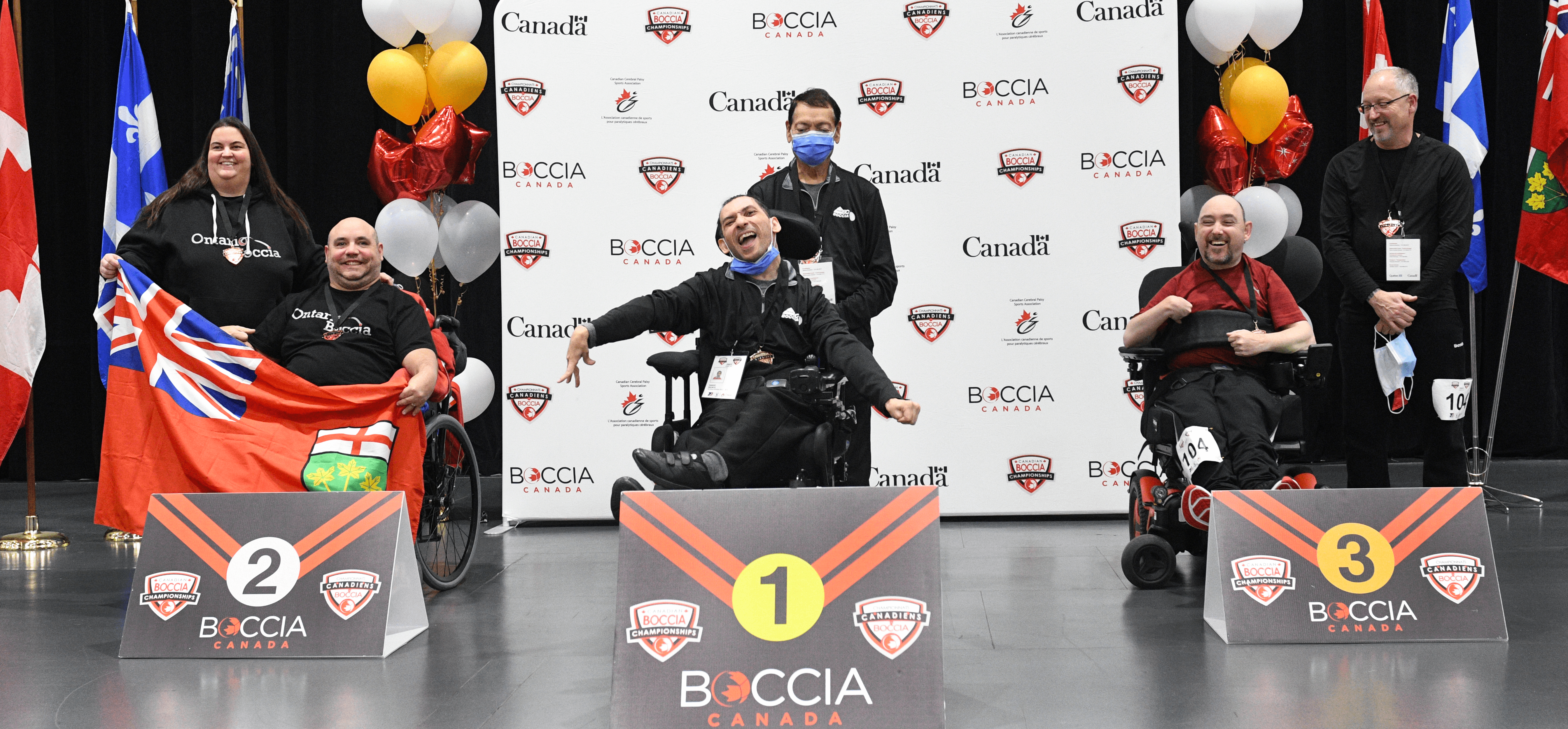 The BC1s celebrate their wins with three different provinces represented on the podium

Québec City, QC (November 20, 2021)
 – Three days of great performances came to an end yesterday as medal winners in the individual event took the podium at the 2021 Canadian Boccia Championships in Québec City. Across six different classes, five provinces were represented on the podium.   Perennial champion Hanif Mawji (Burnaby, BC) won gold in the BC1 class, just one of over 20 gold medals he's captured since his first Canadian Championships in Winnipeg in 1993. Lance Cryderman (Sudbury, ON) took silver and Stephen Westcott (Conception Bay South, NL) the bronze.   The top two nationally ranked BC2 players, Michael Mercer (St. John's, NL) and Danik Allard (Bois-des-Filion, QC), did not disappoint in their gold medal match. Both swiftly beat their opponents in the semifinals but in the final Mercer was the winner, scoring a huge five points in the last end to beat Allard 5-4. Allard was one of four Canadian athletes to compete at the Tokyo Paralympics this past summer. James Davis (Thorold, ON) rounds out the podium with a bronze medal.   Mercer was pleased with his win but humbly lifted his hat to his opponent: "After two long years without boccia it was great to be able to compete again against some of the best players in Canada… I have come to learn that resilience in sport and in life is everything. Coming back in the gold medal game to score five points in the last end for a 5-4 win is a testament to my resilience. 
Congratulations
 to Danik for his silver medal and a hard-fought match."   Marylou Martineau (Québec City, QC) put on a memorable performance in her hometown, winning a well-deserved silver medal after five wins in this tournament and one loss to Eric Bussière (Verchères, QC) in the BC3 finals.   Bussière's great asset is his strategic game: "I had a game plan which is often my strength. My strategy was that I decided to play the long ball that I knew would be more difficult for my opponent to adapt to." Teammates on the National Team, Bussière and Martineau often play together in International Pairs competition.     Also in BC3, a relative newcomer at the national level, Ryan Rondeau (Edmonton, AB) qualified for the semifinals with a massive 4-3 win over current National Team Athlete, Philippe Lord (Blainville, QC), pulling Lord out of the running for a medal. Rondeau then went on to win bronze, beating current National Team Member, Joëlle Guérette (Montréal, QC) 5-4. "It means the world to be on the podium", stated Rondeau. "It means that all the hard work, time, and energy is paying off."   Iulian Ciobanu (Montréal, QC) takes title of Champion in a stacked BC4 class. Ciobanu has changed his style of play during the pandemic and it clearly served him well earlier this summer at the Tokyo Paralympics where he beat world number ten Ximei Lin from China only to narrowly miss the playoffs in the individual event. His Tokyo teammate Marco Dispaltro (St.-Jérôme, QC) earned the silver medal and his brother Gregore Ciobanu (Laval, QC) placed third. Ciobanu attributes his success this week to following his game plan and developing his confidence through competing against the best in Tokyo.    Leah Gustave (Montréal, QC) was another new athlete to take center stage. Gustave came through with a gold including two wins against current number one ranked athlete, Gio De Sero (Guelph, ON) in the BC5 class. Fresh off the big win, Gustave noted "I'm very happy and surprised. I wasn't expecting this. Incredible. It's the first time that I have come to the Canadian Championships. It's something amazing, new for me, and I won!"  Marc-Antoine Goupil (Honfleur, QC) finished with the bronze.   In the round robin Open category Richard Brochu (Montréal, QC) went undefeated taking gold with Ariane Dubuc (Montréal, QC) earning silver and Kylie Waters (Victoria, BC) securing a third place.   Boccia Canada Coach César Nicolai (Montréal, QC) was pleased with the performances he witnessed which bode well for the future of boccia in Canada: "Many athletes achieved podium finishes for the first time in their careers while others showed excellent play in the various classes. We have seen many NextGen athletes who are able to beat anyone in Canada and this is great for the future of boccia in Canada. They have shown that work, practice, and perseverance pays off. I am very satisfied with the work accomplished by these athletes and their coaches, especially during a pandemic!"   To find the full results of the competition click 
here
.   For the live webcast of the event on two courts click 
here
.   For any other information related to the Canadian Championships visit our webpage 
here
.   To find Boccia Canada's National Rankings (as of Monday, November 15) click 
here
. The rankings will be updated again after the Canadian Championships.
RESULTSBC1Gold: Hanif Mawji* Silver: Lance Cryderman* Bronze: Stephen Westcott  BC2Gold: Michael Mercer* Silver: Danik Allard* Bronze: James Davis  BC3Gold: Éric Bussière*; Ass: Francine Hébert Silver: Marylou Martineau*; Ass: Josée Duquette Bronze: Ryan Rondeau; Ass: Meghan Lewis  BC4Gold: Iulian Ciobanu* Silver: Marco Dispaltro* Bronze: Gregore Ciobanu  BC5Gold: Leah Gustave Silver: Giovanni De Sero Bronze: Marc-Antoine Goupil  OpenGold: Richard Brochu Silver: Ariane Dubuc Bronze: Kylie Waters   Note: The * indicates that the person is a member of the current National Boccia Training Squad
---
About Boccia Canada
Boccia Canada is the boccia delivery arm of the Canadian Cerebral Palsy Sports Association (CCPSA), the National Sport Organization for the Paralympic sport of boccia. Boccia Canada is focused on providing athletes and individuals of all ages and skill with the chance to play a unique Paralympic sport. CCPSA collaborates with partners to increase the participation of Canadians with cerebral palsy and related disabilities in sport and physical activity, while leading, developing and growing boccia from grassroots, to producing World and Paralympic Champions.
---
About boccia
Boccia is a Paralympic sport of precision and strategy similar to lawn bowling or curling, played by athletes with Cerebral Palsy, Muscular Dystrophy and related disabilities. It is one of only two Paralympic sports that do not have an Olympic counterpart. Athletes compete in one of six sport classes based on their level and type of disability: BC1, BC2, BC3 BC4, BC5, and Open.
---
Media Contact
Holly Janna
Communications Lead and National Team Coordinator, CCPSA
Email: hjanna@bocciacanada.ca
Phone Number: 613-748-1430 x3 | 514-944-5193