For Immediate Release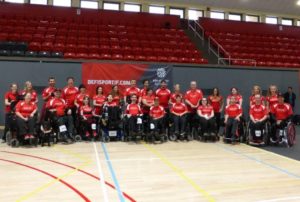 (Ottawa, ON) March 14, 2018 – Boccia Canada is pleased to announce the 14 athletes named to the 2018 National Boccia Training Squad plus  the team that will compete at the first World Open of the season in Montreal.
Boccia Canada has shifted the timing of the National Boccia Training Squad selection to better align with the Boccia International Sports Federation (BISFed) calendar. During the transition, the 2017/18 team is being extended until December 31, 2018, with the exception of Brock Richardson and Paul Gauthier, who stepped down from the Squad due to retirement and injury respectively.  Athletes are selected from the National Boccia Training Squad to compete at international events through the year.
The primary focus this year for the Squad is the World Championships being held in Liverpool, United Kingdom this August, but athletes are already beginning to set their sights on the 2020 Paralympic Games in Tokyo, Japan.
"Many of the best athletes in the world will be in Montreal this year for the Montreal World Open and it will be a great occasion for our Canadian to show off their skills." Comments Head Coach Mario Delisle on the teams first competition of the year. "Athletes in all classes from the National Squad were chosen for that event and we are looking for a solid performance from this group despite the quality of the field. The experience to benefit from is huge and we will have to maximize the learnings."
The following athletes have been named to the National Boccia Training Squad:
BC1
Hanif Mawji (Burnaby, BC)
Josée Lamothe (Trois-Rivières, QC)
Éric Lefebvre (Montreal, QC)
BC2
Adam Dukovich (London, ON)
Benoit Ostiguy (Montreal, QC)
Tammy McLeod (London, ON)
Mike Mercer (St. John's, NL)
BC3
Eric Bussière (Montreal, QC)
Bruno Garneau (Montreal, QC)
Philippe Lord (Montreal, QC)
Marylou Martineau (Quebec, QC)
BC4
Marco Dispaltro (St-Jerome, QC)
Alison Levine (Cote Saint Luc, QC)
Iulian Ciobanu (Montreal, QC)
The following athletes have been named to the team for the Montreal World Open:
BC1
Hanif Mawji
Eric Lefebvre
BC2
Tammy McLeod
Mike Mercer
Benoit Ostiguy
BC3
Eric Bussiere
Philippe Lord
Bruno Garneau
BC4
Alison Levine
Marco Dispaltro
Iulian Ciobanu
2018 NATIONAL BOCCIA TRAINING SQUAD AND MONTREAL WORLD OPEN TEAM ANNOUNCED