For Immediate Release
March 15, 2017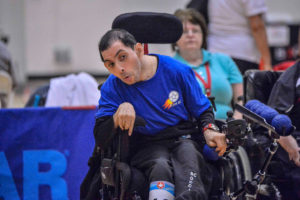 (Longueuil, QC) Athletes from across Canada will be gathering in Lonqueuil, Quebec to battle for a spot on the podium at the 2017 Canadian Boccia Championships. This weekend will see both experienced and rookie athletes hit the court with gold on their minds.
Boccia Canada Council Chair, Gary Vander Vies comments, "I am really excited about the 2017 Championships! I expect there will be many close matches. The calibre of our athletes has increased substantially over the last few years due to the hard work of the athletes and the coaches. This improvement in progress will be evident on the field of play."
This year's championships, hosted by the Association Québécoise de Sports pour Paralytiques Cérébraux, are taking things to the next level with the introduction of several new components. This will be the first national competition to implement rule changes that were made after the 2016 Paralympic Games and the competition has expanded to include a new division of players. In addition, for those who want to catch all the action but are not able to attend, the event will be live streamed on www.bocciacanada.ca so spectators won't need to miss a minute of the action during all three days of competition.
"We continue to make considerable enhancements to the overall production quality of the Canadian Boccia Championships, and in doing so, we are taking the event to new heights," stated Peter Leyser, Executive Director, Boccia Canada. "This year we have significantly expanded our efforts in the areas of traditional and social media, live webcasting, and more on-site Boccia Canada branding, all of which will greatly increase the overall experience for the athletes, officials, volunteers and supporters attending, plus those watching online."
As part of Canada's sesquicentennial year, Boccia Canada is excited to collaborate with the ParticipACTION 150 Play List, which recognizes 150 activities in Canada and challenges Canadians to get active. On Saturday March 18, members of the community can give boccia a shot from 10:00-3:00pm in the Playlist Zone. Prizes and giveaways will be available.
With medals on the line in team, pairs and individual divisions, there will be plenty of action for spectators. Vander Vies concludes, "Be ready to grab the edge of your seat!"
Competition Site:
Centre Sportif Collège Edouard-Montpetit
260 rue de Gentilly Est
Longueuil
J4H 4A4
Dates:
Friday, March 17, 2017: Team and Pair Competition
Saturday, March 18, 2017: Individual Competition
Sunday, March 19, 2017: Individual Competition & Medal Ceremony
| | | |
| --- | --- | --- |
| First Name | Last Name | Classification |
| Newfoundland | | |
| Lois | Martin | BC1 |
| Stephen | Wescott | BC1 |
| Krystin | Collins | BC2 |
| Michael | Mercer | BC2 |
| Hayley | Redmond | BC2 |
| | | |
| | | |
| Nova Scotia | | |
| Jennica | Gagne | BC3 |
| K. Michael | Smith | BC3 |
| | | |
| | | |
| Quebec | | |
| Dorya | Belal | BC1 |
| Josée | Lamothe | BC1 |
| Éric | Lefebvre | BC1 |
| Sylvain | Dupuis | BC2 |
| Benoit | Ostiguy | BC2 |
| Éric | Bussire | BC3 |
| Bruno | Garneau | BC3 |
| Philippe | Lord | BC3 |
| Iulian | Ciobanu | BC4 |
| Marco | Dispaltro | BC4 |
| Alison | Levine | BC4 |
| Richard | Brochu | ouverte |
| Nancy | Caldwell | ouverte |
| Ariane | Dubuc | ouverte |
| | | |
| Wild Card | | |
| Alexandre | Ziegler | BC1 |
| Dave | Richer | BC2 |
| Giancarlo | Bizzarro | BC3 |
| Samuel | Lafleur | BC3 |
| Marylou | Martineau | BC3 |
| Marianne | Paquet | BC3 |
| Alexandre | Lemaire | BC4 |
| | | |
| Ontario | | |
| Jamie | McKee | BC1 |
| Brock | Richardson | BC1 |
| Keven | Smith-Worthylake | BC1 |
| Adam | Dukovich | BC2 |
| Tammy | McLeod | BC2 |
| Clarence | Merrigan | BC3 |
| Kevin | Shaw | BC3 |
| Giovanni | De Sero | BC4 |
| | | |
| | | |
| | | |
| British Columbia | | |
| Chris | Halpen | BC1 |
| Hanif | Mawji | BC1 |
| Gabe | Wadham | BC1 |
| Paul | Jalbert | BC2 |
| Alison | Kabush | BC3 |
| Caroline | Vietnieks | BC4 |
24th ANNUAL CANADIAN BOCCIA CHAMPIONSHIPS KICKS OFF THIS FRIDAY