For Immediate Release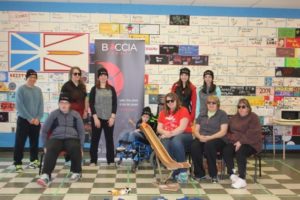 May 16, 2016
(Ottawa, ON) Five provinces will host over seventy events to introduce Canadians to boccia this year, thanks to equipment kits and micro grants through the Take the Shot program from Boccia Canada. The Take the Shot program was designed to enhance participation of boccia clubs and provincial partners in the ParticipACTION 150 Play List initiative.
"We were so excited that boccia was included in the 150 Play List, but as a relatively small sport, we knew that many of our clubs and provincial partners lacked the resources or equipment to fully participate," explains Jennifer Larson, Program Manager. "We want as many people as possible to check boccia off their Play List, and these grants and equipment kits will help achieve that."
Boccia is a Paralympic sport of precision and focus similar to bocce and curling. Competitive boccia is played by athletes with cerebral palsy, muscular dystrophy and related disabilities, but it's also a recreational sport that is fun for the whole family.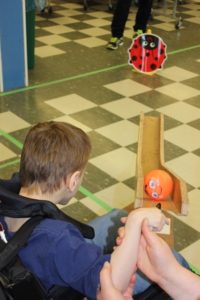 The aim of boccia is to roll a ball towards a white target ball, called the jack. What makes the game unique is that all players are seated and they can choose to kick, throw or use a ramp, so the game is open to people with very limited mobility. Each player has six balls of the same colour (blue or red). After all balls are played, the athlete closest to the target scores one point for each ball that's closer to the target than their opponent's best ball. Boccia can be played both individually and as a team. A game consists of four ends (six in a team game) and the player or team that finishes with the most points is the winner.
Take the Shot events are free and open to anyone. Equipment is provided and trained boccia coaches and athletes will be on hand to teach the basics. With five provinces hosting events throughout Canada's sesquicentennial, Canadians will have multiple opportunities to take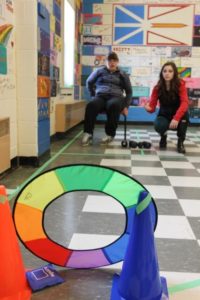 the shot at this unique sport.
Eileen Bartlett, Newfoundland Take the Shot recipient comments, "We saw this a great opportunity to increased awareness and participation in boccia, especially in currently underserviced areas. What a great way to celebrate Canada's 150th, bringing people together through boccia."
In addition to Take the Shot events throughout the year, Boccia Canada is partnering with ParticipACTION for a special day to celebrate boccia on September 16th, 2017.
Find out all you need to know about boccia, including the history, rules, classification and equipment: https://www.youtube.com/watch?v=f5CmEab8tqU
A full list of events is available below and online at https://bocciacanada.ca/news-events/events/.
Organization
Dates/ times
Location
Contact
Manitoba
Manitoba Cerebral Palsy Sports Association (MCPSA)
May 18

June 8

6:30pm-8 pm

More to come

St. James Civic Centre

2055 Ness Ave

Winnipeg, MB

R3J 0Z2

Greg Sliva

Email: greg.sliva@tc.gc.ca

Ontario
Toronto Parasport Association
Sept 14-21

12:30pm-2pm

Anne Johnston Health Station

2398 Yonge St

Toronto, ON
M4P 2H4

Matthew Kennedy

Email: moopes@hotmail.com

Hamilton Accessible Sports Council
Sept 24
Ron Joyce Children's Health Center

325 Wellington St N

Hamilton, ON

L8L 0A4

Denise McArthur

Email: mcarthurd@hhsc.ca

Variety Village
TBA
Variety Village

3701 Danforth Ave

Scarborough, ON

M1N 2G2

Chris Murdoch

Email: cmurdoch@varietyvillage.on.ca

The Participation House Project
Sept 28
The Participation House

55 Gordon St

Whitby, ON

L1N 0J2

Joe Millage

Email: jmillage@phdurham.com

Ontario Cerebral Palsy Sports Association & ParticipACTION
Sept 16

12pm-5 pm

City Park

Kingston, ON

Amanda Fader

amanda@ocpsa.com

Ontario Accessible Rec & Sport
TBA
Toronto Pan Am Sports Centre

875 Morningside Ave

Toronto, ON

M1C 0C7

Rick Watters

Email: rick@oarscan.org

Quebec
Association Québécoise de Sports pour Paralytiques Cérébraux (AQSPC)
May 20

12pm-4pm

May 21

10pm-2pm

École Secondaire Jean-Jacques-Rousseau

2700 Rue Jean Charles Bonenfant

Boisbriand, QC

J7H 1P1

Elizabeth Deziel

Email: edeziel@sportpc.qc.ca

AQSPC
Sept 16-17

Centre sportif Jean-Rougeau

8000 Rue de Normanville

Montreal, QC

H2R 2V6

Elizabeth Deziel

Email: edeziel@sportpc.qc.ca

AQSPC
Nov 18
School Secondary Versatile De L'ancienne-Lorette

1801 Rue Notre Dame

L'Ancienne-Lorette, QC

G2E 3C6

Elizabeth Deziel

Email: edeziel@sportpc.qc.ca

Centre d'Intégration à la vie active (CIVA)
Sept 23

9am-12pm

École Joseph-Charbonneau

8200 Rue Rousselot

Montreal, QC

H2E 1Z6

Vanessa Handfield Bigué

Email: vhbigue@civa.qc.ca

Nova Scotia
Boccia Association of Nova Scotia
TBA
Easter Seals NS Camp

Halifax Oval

Jim Gagne

Email: gagnejim01@gmail.com

Newfoundland and Labrador
Easter Seals NL
May 28
Corner Brook Regional High

12 University Dr

Corner Brook, NL

A2H 5G4

Eileen Bartlett

Email: eileen@eastersealsnl.ca

Easter Seals NL
Oct 7
Easter Seals House

206 Mt Scio Rd

St. John's, NL

A1B 4E7

Eileen Bartlett

Email: eileen@eastersealsnl.ca
Media Contact:
Kaymin Roorda, Marketing and Communications Coordinator
Cell: 613-806-5669
Email: kroorda@bocciacanada.ca
BOCCIA CANADA ANNOUNCES TAKE THE SHOT GRANT RECIPIENTS