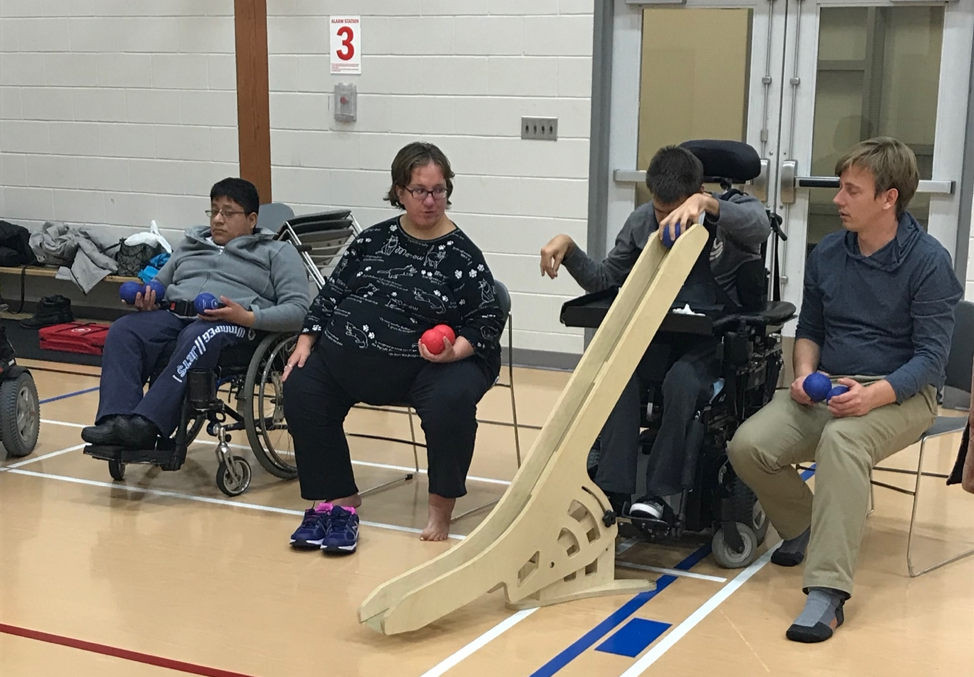 Manitoba Possible has doubled their boccia athletes since 2018 with help from the Provincial Development Grant Program
Ottawa, ON (March 11, 2021) – Six provincial partners and six clubs will receive a total of $54,700 in grants to support boccia development through Boccia Canada's Provincial Development Grant Program. This is almost double the total funding distributed in 2019-20.
The funding pillars of the 2020-21 Grant Program include Recruitment and Development, Daily Training, Coaching Education, Officials Development, and a newly added Equipment pillar. The program normally also includes a Competition Hosting pillar, which was placed on temporary hold due to COVID.
"We recognize that this has been a challenging year for many of our partners, and wanted to ensure they had the support they needed to continue their boccia development efforts. Our partners let us know that one of the best ways we could do that was to provide additional support this year for equipment," says Program Manager, Jennifer Larson.
Manitoba Possible was one of the provincial partners to receive a grant. Recreation Facilitator, Colleen Moyer, was delighted by the news.
"With the support of Boccia Canada, Manitoba Possible will be able to create a boccia website specific to our province and develop training sessions, such as an introductory boccia coaching course, and more. Creating a safe way to participate during the pandemic, Manitoba Possible will run a virtual boccia battle tournament too. We're excited to see what other opportunities there are for Manitobans to learn about boccia!"
The grant program expanded to include club level funding in 2019-20. Club level funding supports a wide variety of local boccia programming, from traditional community boccia clubs to programs delivered by municipal recreation programs or hospitals, such as the Town of Clarenville, Newfoundland and Labrador and the Rehabilitation Centre for Children in Winnipeg, Manitoba.
Hailey Perchotte from Rehabilitation Centre for Children explains that "this funding will allow the LIFE Program to reach the youth population in Manitoba and provide a supportive environment to try a new sport. We hope to continue growing our boccia community and provide more opportunities for our athletes to develop their skills."
Stacy Sheppard, from the Town of Clarenville Recreation Department explains, "This funding will help to offer an additional, inclusive program in the Town of Clarenville to enhance social, mental, and physical health and encourage residents to 'find their fit'. The club will be introduced in May 2021 should public health regulations allow. We are hoping to have an ongoing, once-a-week evening program, as well as an afternoon program to encourage all ages and abilities."
The Provincial Development Grant Program has been supporting boccia development since 2014.
2020-2021 Provincial Development Grant Recipients
Provincial Boccia Organizations
Alberta Cerebral Palsy Sports Association (ACPSA)
Association québécoise de sports pour paralytiques cérébraux (AQSPC)
Easter Seals Newfoundland and Labrador
Manitoba Possible
Ontario Cerebral Palsy Sports Association (OCPSA)
SportAbility BC
Clubs
Centre d'intégration à la vie active (CIVA)
Clarenville Boccia Blast
London Cannonballs
Medicine Hat Adaptive Sport and Recreation Association
Rehabilitation Centre for Children (RCC)
Victoria Screamers
About Boccia Canada
Boccia Canada is the boccia delivery arm of the Canadian Cerebral Palsy Sports Association (CCPSA), the National Sport Organization for the Paralympic sport of boccia. Boccia Canada is focused on providing athletes and individuals of all ages and skill with the chance to play a unique Paralympic sport. CCPSA collaborates with partners to increase the participation of Canadians with cerebral palsy and related disabilities in sport and physical activity, while leading, developing and growing boccia from grassroots, to producing World and Paralympic Champions.
About boccia
Boccia is a Paralympic sport of precision and strategy similar to lawn bowling or curling, played by athletes with Cerebral Palsy, Muscular Dystrophy and related disabilities. It is one of only two Paralympic sports that do not have an Olympic counterpart. Athletes compete in one of six sport classes based on their level and type of disability: BC1, BC2, BC3 BC4, BC5, and Open. For more information on boccia, visit http://bocciacanada.ca.
---
Media Contact
Holly Janna
Email: hjanna@bocciacanada.ca
Phone number: (613) 748-1430
Boccia Canada Delivers $54,700 in Development Grants