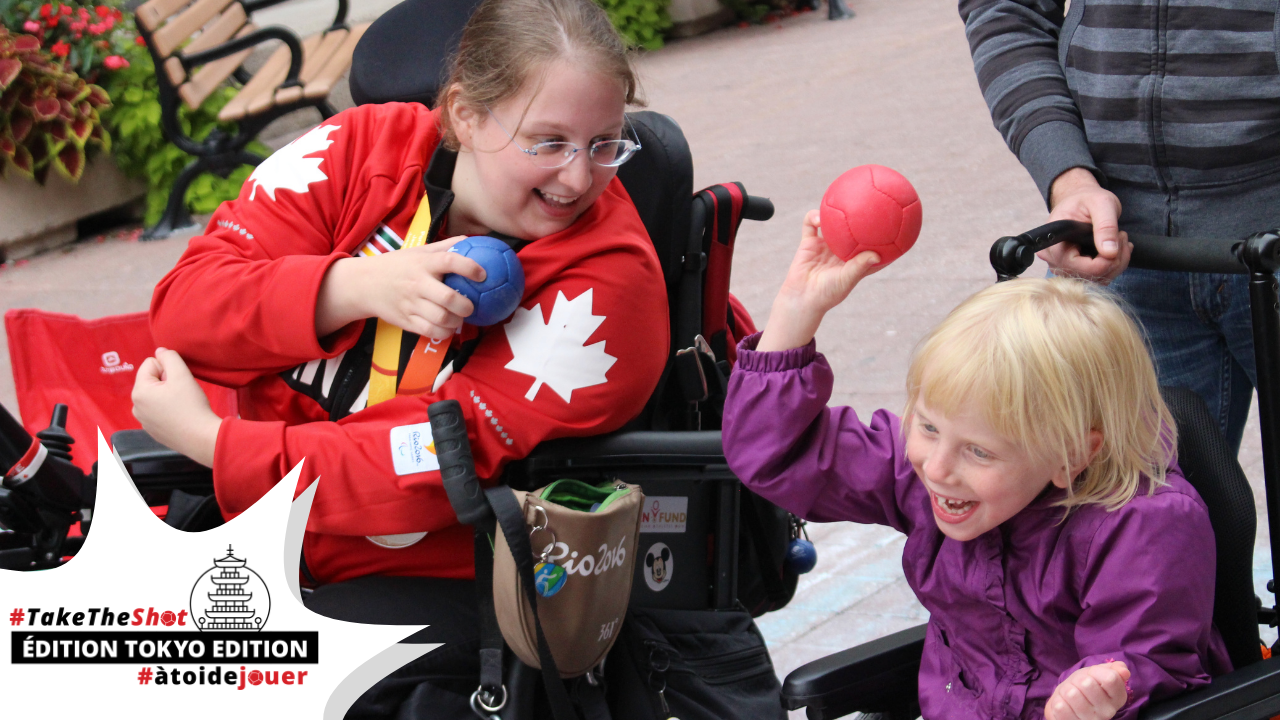 Abby Dalgleish takes her first shot with Paralympian Alison Levine in 2017
Ottawa, ON (April 19, 2021) – With just over four months to go until the Tokyo 2020 Paralympic Games, Boccia Canada launches the Take the Shot (Tokyo Edition) campaign to increase participation and awareness of boccia across Canada in the lead up to the Games. This year's campaign is virtual and includes opportunities for schools, camps, etc. to receive downloadable activation kits and online presentations from boccia athlete ambassadors. The program will also include club grants for new boccia programs for regions where in-person programming is possible.
The beauty of boccia is that anyone can play and be successful in the sport. Boccia allows people with a wide variety of abilities to experience the joy of sport at whatever level they choose – from recreation to international competition. This program gives participants a chance to connect with Paralympians who have reached their sporting goals through boccia. Each athlete's story is unique and their perseverance, creativity, and love of sport are sure to inspire participants to develop and pursue their own goals.
Athlete presentations will be available in both French and English. The downloadable activation kits will include activity sheets, a boccia colouring sheet, activities for Boccia at Home, and a call to action to help participants connect with boccia in their community.
The goal of the campaign is to encourage new participants to try boccia and develop new boccia fans to follow Team Canada in Tokyo.
To sign up for a classroom or camp presentation with an athlete ambassador, click here.
Visit Boccia Canada's Take the Shot (Tokyo Edition) for all information including the downloadable activation kit here.
Boccia Canada Launches the Take the Shot Campaign – Tokyo Edition