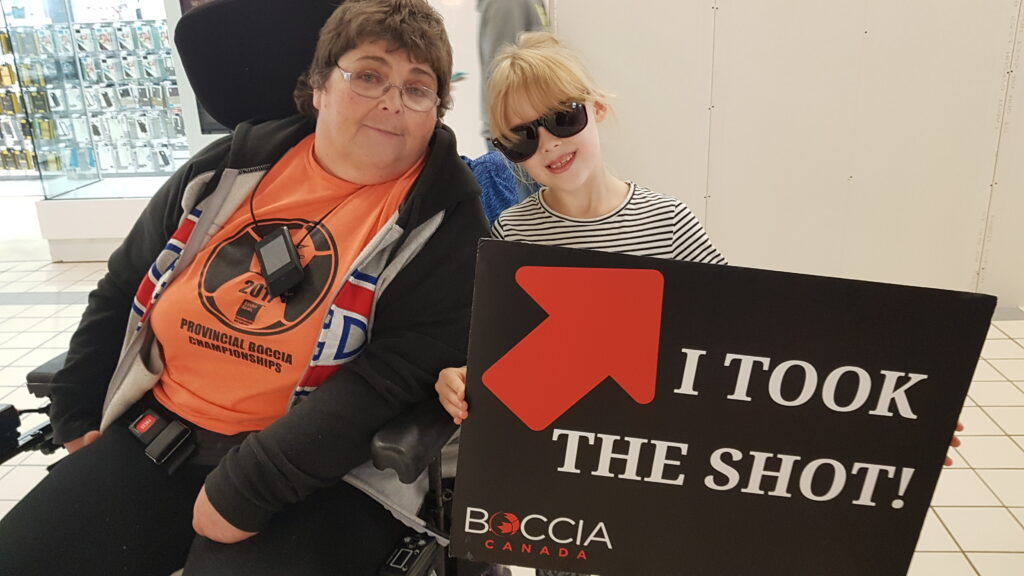 Terrie Hefford (left) 'took the shot' in 2017 at Newfoundland and Labrador Provincials
Ottawa, ON (February 17, 2021) – Boccia Canada is pleased to present the "Profiling Women in Boccia" series in the lead up to International Women's Day on March 8.
The series will profile female boccia athletes, coaches, officials, performance partners, and volunteers in a collection of videos.
Executive Director, Peter Leyser, explains that "we are very fortunate to have talented and dedicated women involved in boccia at all levels and roles. Their stories and achievements send such a positive message for other women who might want to give boccia a try. As only one of two parasports where women and men compete against each other, gender equity is paramount to the game of boccia. These videos reinforce the importance of our sport being inclusive and welcoming to all."
In addition to playing boccia, many women have also held leadership positions in the sport including: President, Executive Director, National Team Coach, Chair of Participation & Development, Chair of Athletes' Council, Chair of High Performance and at events as Technical Delegate, Head Classifier, and Head Referee.
The boccia community has created space for women to participate in one of the few co-ed Paralympic sports. As BC5 athlete Terrie Hefford explains, "I don't see any discrimination in boccia between men and women. I find we are all encouraged the same. When you have your community and your team supporting you… it gives you more confidence in yourself. I know [boccia] has done that for me."
The videos will be accompanied by social media spotlights on influential women that have played in a multitude of leadership roles in the organization.
You can keep up with the entire series through Boccia Canada's Facebook page.
About Boccia Canada
Boccia Canada is the boccia delivery arm of the Canadian Cerebral Palsy Sports Association (CCPSA), the National Sport Organization for the Paralympic sport of boccia. Boccia Canada is focused on providing athletes and individuals of all ages and skill with the chance to play a unique Paralympic sport. CCPSA collaborates with partners to increase the participation of Canadians with cerebral palsy and related disabilities in sport and physical activity, while leading, developing and growing boccia from grassroots, to producing World and Paralympic Champions.
About boccia
Boccia is a Paralympic sport of precision and strategy similar to lawn bowling or curling, played by athletes with Cerebral Palsy, Muscular Dystrophy and related disabilities. It is one of only two Paralympic sports that do not have an Olympic counterpart. Athletes compete in one of six sport classes based on their level and type of disability: BC1, BC2, BC3 BC4, BC5, and Open. For more information on boccia, visit http://bocciacanada.ca.
---
Media Contact
Holly Janna
Email: hjanna@bocciacanada.ca
Phone number: (613) 748-1430
Boccia Canada Presents "Profiling Women in Boccia" Series