For immediate release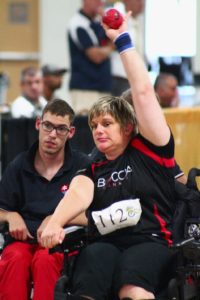 (Ottawa, ON) May 15, 2018 – Boccia Canada is pleased to announce the seven athletes named to the BISFed 2018 Sao Paulo Brazil Regional Open, May 22-26.
After competing last month in Montreal at the World Open, Team Canada heads abroad with a mix of experienced and development athletes for this competition. For these seven athletes, this will be a great opportunity to gain valuable experience against the best athletes from Brazil, Chile, El Salvador, Peru, Ecuador, Argentina, Costa Rica, and South Africa.
For Head Coach Mario Delisle, it's a chance to focus on flourishing these athletes.
"After the Montreal World Open late April the Sao-Paulo event will be an occasion for some athletes in development to show what they can do in an event that is more appropriate for their level. I am excited to see how this young team is going to do on the Brazilian field but one thing for sure is we are going to be ready to perform."
The following athletes have been named to the team for the BISFed 2018 Sao Paulo Brazil Regional Open:
BC1
Hanif Mawji, (Burnaby, BC)
Josée Lamothe, (Trois-Rivières, QC)
BC2
Benoit Ostiguy, (Montréal, QC)
Hayley Redmond, (St. John's, NL)
BC3
Eric Bussiere, (Verchères, QC)
Marylou Martineau, (Québec, QC)
Philippe Lord, (Blainville, QC)
The competition takes place at the Brazilian Paralympic Committee Training Center in Sao Paulo, Brazil. Competition starts on May 22nd with the closing ceremonies on May 26th. For live results, follow www.BISFED.com.
BOCCIA CANADA TEAM ANNOUNCED FOR REGIONAL OPEN IN SAO PAULO, BRAZIL