For immediate release
(Ottawa, ON) June 18, 2018 – Boccia Canada is pleased to announce the five athletes named to the BISFed 2018 Povoa de Varzim World Open, taking place July 2-9 in Portugal.
This event is a critical stepping-stone on the path to the World Championships in August.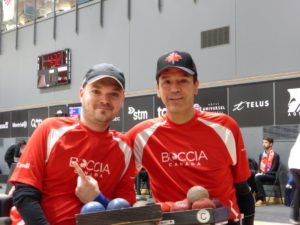 Following their silver medal success at the recent Regional Open in Brazil, Eric Bussière (Verchères, QC) and Philippe Lord (Blainville, QC) will join forces again for more BC3 pairs action. They will be joined by Alison Levine (Côte Saint Luc, QC), Iulian Ciobanu (Montreal, QC) and Marco Dispaltro (St-Jerome, QC) who are making their first international appearance since Levine won individual silver at the Montreal World Open in May.
For Head Coach Mario Delisle, it's a chance to prepare the athletes for the World Championships in Liverpool.
"In Montreal, we were successful in the same type of tournament and we are counting on these athletes to do even better in Portugal, especially in pairs BC3 and BC4. Our athletes will be ready to compete for every ball."
The following athletes have been named to the team for the BISFed 2018 Povoa de Varzim World Open:
BC3
Eric Bussière (Verchères, QC)
Philippe Lord (Blainville, QC)
BC4
Alison Levine (Côte Saint Luc, QC)
Iulian Ciobanu (Montreal, QC)
Marco Dispaltro (St-Jerome, QC)
The competition takes place at the Council Sports Hall of Povoa de Varzim in Portugal. Competition starts on July 4th with the closing ceremonies on July 8th. For live results, follow www.BISFED.com
-30-
For media inquiries:
Natalie Antoine
613-608-4347
Boccia Canada Team Announced for World Open in Povoa de Varzim, Portugal