Ottawa, ON (January 20, 2020) – A mix of Paralympic medal hopefuls and next generation athletes make up the 2020 National Boccia Training Squad.
Many athletes from 2019 will be returning this year, including Tokyo medal contenders Alison Levine, Iulian Ciobanu and Marco Dispaltro in the BC4 category.
Also returning are Éric Bussière, Joëlle Guérette, Marylou Martineau, and Philippe Lord in the BC3 classification who finished in the top four in their category at the 2019 Canadian Boccia Championships.
BC2 athlete Danik Allard leads the next generation squad. Allard is coming off a breakout year in 2019, where he placed fourth at the Montreal World Open and won bronze at the Regional Championships in Sao Paulo. The 2019 Canadian Champion Mike Mercer and Boccia Blast silver medallist Hayley Redmond round out the BC2 category.
In the BC1 class, fellow medalists Lance Cryderman and Éric Lefebvre join veteran Hanif Mawji, who is fresh off a gold medal at the 2019 Canadian Boccia Championships.
"This group of fourteen athletes have proven to be the ones with the best results at national events and have the skill set to perform at the highest level" according to Head Coach Mario Delisle.
Delisle is joined by BC4 Coach César Nicolai, BC3 Coach Simon Larouche, and BC1/2 Coach Ed Richardson.
The team will start the year competing at the Laval Boccia World Open from April 23-30.
2020 NATIONAL BOCCIA TRAINING SQUAD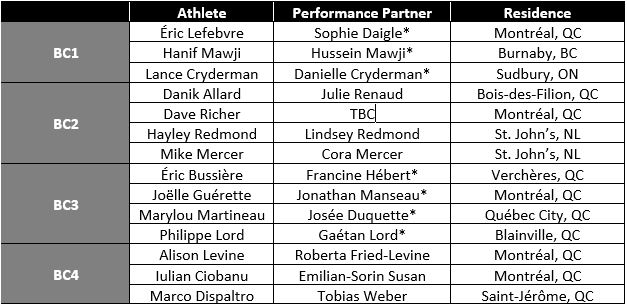 *Actively assists athlete during competition on the field of play (BC1 and BC3 only
Boccia Canada Unveils 2020 National Boccia Training Squad