For Immediate Release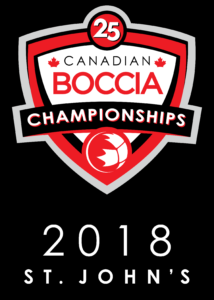 (April 10, 2018) Ottawa, ON- Boccia Canada is excited to announce that Easter Seals Newfoundland and Labrador will host the 25th Canadian Boccia Championships in St. John's from November 15-18, 2018.
"Easter Seals NL is delighted in leading the Newfoundland and Labrador boccia community in hosting the 25th anniversary Canadian Boccia Championships, Nov 15 – 18, 2018 in St. John's," states Mark A. Bradbury, Chief Executive Officer, Easter Seals Newfoundland and Labrador.  "We look forward to amazing displays of sportsmanship and athleticism by athletes with disabilities from across our country."
To celebrate the Championships silver anniversary, Boccia Canada has released a commemorative logo and plans to hold other special celebrations around the event.
The Paralympic sport of boccia has grown immensely in Canada since the first National Championships were held in Winnipeg, MB.
Over the years, there's been more than a few rule changes, the equipment has become more sophisticated and the game has expanded to include athletes with a wide variety of disabilities. At the same time, boccia has become the fastest growing parasport in the world. What hasn't changed is the participants' passion for the game.
The Championships will return to the NL Sports Centre where they were last hosted in 2014. Athletes from across Canada will meet on the Rock to display world class talent and test their skill against some of the top athletes in the country.
"We are truly excited to be bringing the Canadian Boccia Championships back to the City of St. John's," states Peter Leyser, Executive Director, Boccia Canada.  "Easter Seals Newfoundland and Labrador were tremendous hosts in 2014, and this year as we celebrate the 25th anniversary of the Championships, we look forward to another fantastic and milestone event."
The Championships will be professionally livestreamed and available at the Boccia Canada website, Facebook page and Youtube. A schedule and links will be provided at a later date.
For up-to-date details and deadlines stay tuned to www.canadianbocciachampionships.ca.
BOCCIA HEADS BACK TO THE ROCK FOR THE 25TH CANADIAN BOCCIA CHAMPIONSHIPS