For Immediate Release
November ­­23, 2016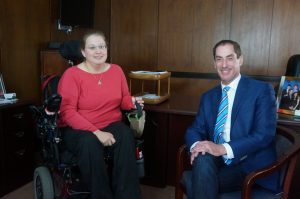 (Côte Saint Luc, QC) Boccia Canada's Alison Levine has been recognized for her volunteer efforts in her hometown of Côte Saint Luc, QC. Levine has been recently awarded with the Royal Canadian Legion Brigadier Frederick Kisch Branch #97 Award. This award recognizes the youth volunteer of the year, a "leader of tomorrow", for outstanding efforts in making a difference in Côte Saint Luc, QC through volunteer activities. Levine, who was born and raised in Côte Saint Luc, has been a long-time volunteer within her community. She is a hard-working individual who is always willing to work hard and give back wherever possible.
"I think it is very important that everyone gets involved in their community. That's what makes it a community and not just a place where you live" stated Levine.
Levine most recently competed at the Paralympics in Rio de Janeiro, placing fifth in boccia. For more information on this award please follow the links provided below.
https://www.youtube.com/watch?v=eW5mvsTtsgs
http://www.cotesaintluc.org/VolunteerAwards2016
http://www.cotesaintluc.org/fr/benevolat2016
Media Contact:
Kaymin Roorda, Marketing and Communications Coordinator
Cell: 613-806-5669
Email: kroorda@bocciacanada.ca
BOCCIA PARALYMPIAN RECOGNIZED FOR HER OUTSTANDING VOLUNTEER EFFORTS IN COMMUNITY