For Immediate Release
June 14, 2017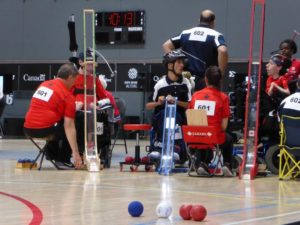 (Ottawa, ON) Boccia Canada is pleased to announce the athletes selected for the BISFed Regional Championships, in Santiago de Cali, Colombia from Aug 14-21. The competition will include athletes from all over the Americas.
The team last competed in Cali in 2015 and several athletes from that team are returning this year. In these last two years, the team has seen tremendous growth and are excited to head back to Colombia.
"I like the mix of athletes we have on this team for the America's Championships." Says Head Coach Mario Delisle, "It will be important to have experience at this event, but at the same time we need to give occasions to compete to the less experienced athletes we have in the program. Bottom line we're going to Santiago de Cali with a very good team."
Canada is looking to sweep the podium in all classes. On the BC1/2 Team, veterans Hanif Mawji (Burnaby, BC) and Adam Dukovich (London, ON), are eager to reach the podium alongside Benoit Ostiguy (Montreal, QC) and Josee Lamothe (Trois-Rivières, QC). With the experience of both veterans and the up and coming talent of Ostiguy and Lamothe, the team is focused on coming home with a medal.
Also aiming for the podium are BC4 Pair, Marco Dispaltro (St. Jerome, QC), Alison Levine (Montreal, QC) and substitute Iulian Ciobanu (Montreal, QC). They landed just shy of the podium two years ago, and are coming back, thirsty for gold.
The BC3 Pair, head to Colombia with three very strong athletes. Eric Bussiere (Montreal, QC) has medalled in his last two BISFed competitions and has excelled since first encountering the sport in 2011. The remainder of the Pair consists of Paralympic veteran Bruno Garneau and substitute Philippe Lord, fresh from winning silver at the Montreal Regional Open in April. This Pair will be a force to reckon with at these championships.
The competition will be hosted at the Hockey Coliseum in Santiago de Cali, Colombia. Competition commences on Aug 16, 2016 with the closing ceremony on Aug 20.
Team Canada:
BC1
Hanif Mawji (Burnaby, BC)
Josée Lamothe (Trois-Rivières, QC)
BC2
Adam Dukovich (London, ON)
Benoit Ostiguy (Montreal, QC)
BC3
Eric Bussière (Montreal, QC)
Bruno Garneau (Montreal, QC)
Philippe Lord (Montreal, QC)
BC4
Alison Levine (Montreal, QC)
Iulian Ciobanu (Montreal, QC)
Marco Dispaltro (St. Jerome, QC)
BOCCIA TEAM ANNOUNCED FOR AMERICA'S CHAMPIONSHIPS IN CALI, COLOMBIA