For Immediate Release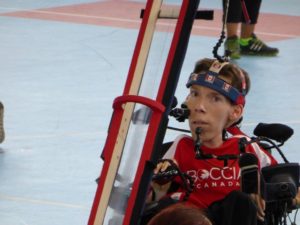 Sept 18, 2017
(Ottawa, ON) Boccia Canada is excited to announce the athletes going to the 2017 BISFed World Open in Kansas City, USA from Sept 22-28.
A month after the Americas Regional Championship in Cali, Colombia, the team is ready to face a broader range of competitors at their first World Open of the 2020 Paralympic cycle. Sixteen countries will be competing at this tournament, providing diverse competition and challenge for Canadian athletes.
For Head Coach Mario Delisle, it's also a chance to focus on developing the next generation of athletes.
"This year is important as it give opportunities to athletes who have shown progress over the last year. Bringing Josee Lamothe, Eric Lefebvre, Mike Mercer and Marylou Martineau to Kansas City for this World Open gives them the experience of a larger international event and the opportunity to show their potential at this higher level."
The competition takes place at the KCI Expo Center in Kansas City, Missouri. Competition starts on Sept 24 with the closing ceremonies on Sept 28. For live results follow www.BISFed.com
Team Canada:
BC1
Josée Lamothe (Trois-Rivières, QC)
Eric Lefebvre (Montreal, QC)
BC2
Adam Dukovich (London, ON)
Mike Mercer (St. John's, NL)
BC3
Eric Bussiére (Verchères, QC)
Bruno Garneau (Montreal, QC)
Marylou Martineau (Quebec, QC)
BC4
Alison Levine (Montreal, QC)
Iulian Ciobanu (Montreal, QC)
Marco Dispaltro (Saint-Jérôme, QC)
BOCCIA TEAM ANNOUNCED FOR BISFED WORLD OPEN IN KANSAS CITY, USA