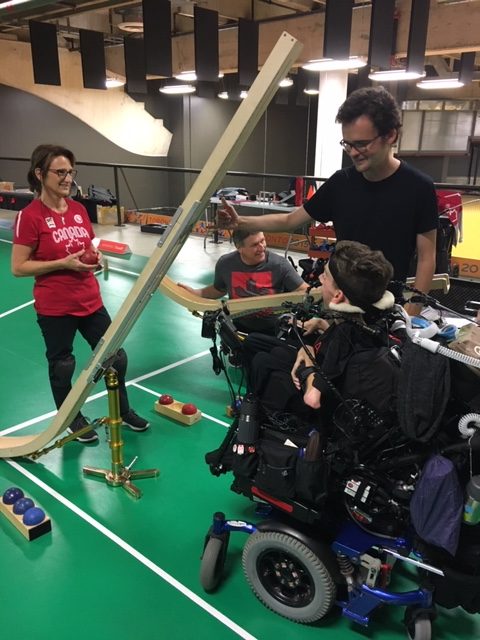 September 20, 2019 (Ottawa, ON) – Boccia Canada is pleased to announce the 11 athletes who will represent Canada at the 2019 Sao Paulo America Regional Championships from September 29 to October 5.
"This is the event with the most weight this year in terms of world ranking points and it's also a direct qualifier for Tokyo for those who get gold. We are still in the race with our BC3 Pairs and BC4 Pairs and we are looking to achieve a Tokyo qualification by winning gold at this event," said Head Coach Mario Delisle.
"The BC1/BC2 Team is also looking great and they will be a challenge for other countries in Sao Paulo. The main achievements for them would be to get back to an international competitive level and build confidence for the 2024 cycle. That said, we are going to Sao Paulo to win games in all classes and we know we can do it."
The eleven athletes will be joined by performance partners Annabelle Lefebvre, Blaise Collins, Danielle Cryderman, Emilian-Sorin Susan, Fatemeh Vaezi-Poor, Francine Hébert, Gaétan Lord, Jonathan Manseau, Julie Renaud, Roberta Fried-Levine, and Sandra Duchesne.
Canada will be competing in all events in Sao Paulo including BC1/BC2 Team, BC3/BC4 Pairs, and Individuals for all four classes.
At the 2018 Sao Paulo Boccia Regional Open, Canada put on a show with a total of two medals in the Individuals event and two medals in the Team/Pairs event.
| | | |
| --- | --- | --- |
| ATHLETE | CLASS | RESIDENCE |
| Lance Cryderman | BC1 | Sudbury, ON |
| Éric Lefebvre | BC1 | Salaberry-de-Valleyfield, QC |
| Dave Richer | BC2 | Montréal, QC |
| Kristyn Collins | BC2 | St. John's, NL |
| Danik Allard | BC2 | Bois-des-Filion, QC |
| Éric Bussière | BC3 | Verchères, QC |
| Philippe Lord | BC3 | Blainville, QC |
| Joëlle Guérette | BC3 | Montréal, QC |
| Alison Levine | BC4 | Montréal, QC |
| Marco Dispaltro | BC4 | St-Jérôme, QC |
| Iulian Ciobanu | BC4 | Montréal, QC |
For all Sao Paulo content, follow Boccia Canada on Facebook, Instagram, and Twitter.
Boccia Team Members Announced for the 2019 Sao Paulo America Regional Championships