For immediate release
Povoa de Varzim, PORTUGAL, July 8, 2018 – Philippe Lord (Blainville, QC) and Eric Bussière (Verchères, QC) will be coming home to Canada on Wednesday with a medal around their neck, after claiming silver in BC3 pairs competition at the BISFed 2018 World Open Povoa de Varzim in Portugal. The BC4 pairs finished their competition in fourth place.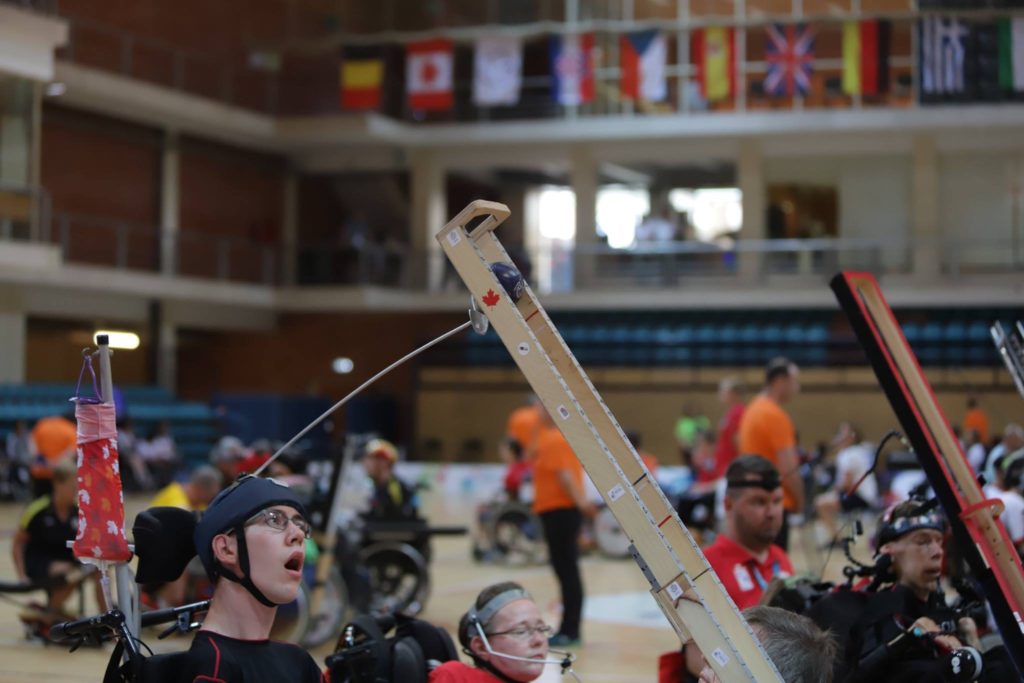 Lord and Bussière began their day against a very tough opponent in the host country Portugal, but managed winning by a very slight margin of 3-2. Their second game was a continuation from the match on Saturday versus Russia.  After winning yesterday's protest regarding mistakes made by the referees, the match picked-up where it left off yesterday, with Lord and Bussière leading 3-0 to start the third end. The BC3 duo managed to hold on to their lead by limiting Russia to only one point per end, and winning 3-2. "We had excellent teamwork and collaboration to win against some big name athletes," noted Lord.
Their next match against Thailand, and after a hard fought battle that needed and extra end, it was the BC3's first loss of the preliminary round by a score of 6-5.  However, with a 3-1 record, Lord and Bussière still finished first in their pool. The BC3 semi-finals was a tight competition despite the final score of 4-0. Canada maintained a steady pace, grabbing one point each end for the victory against Spain. The final against the world number 6 ranked pairs from Greece proved more difficult for the BC3 pairs, losing 4-1 and leaving Lord and Bussière with the silver medal. "It was a long and thrilling day of pairs competition, I think we might have hit a record of most games played in one day; four games, one into extra ends and the two ends to be replayed against Russia," added Bussière. "We stayed focus and calm and I think this is one of our best tournaments for us in pairs."
Canada received a last minute invitation for the BC3 pairs slot to replace Brazil only three weeks before the competition. "Eric, Philippe and their performances partners Francine and Gaétan have taken up the challenge with flying colors and that is encouraging for the future," noted Head Coach Mario Delisle. "I am very proud of this group that is lead by BC3 coach Kristin Dorrance, and with the difficult schedule of consecutive matches, they managed it all very well," The hectic schedule over the past two days certainly didn't seem to hamper the success of the team. "
Today was probably the most intense days of boccia you could ever had," added BC3 coach Kristin Dorrance.  "It was a tough day but I am very proud to say that we are coming home with a silver medal. There was a high level of competition and some countries here that we don't get to see often, which is a great opportunity for us to learn and see how we compare before the World Championships this August in Liverpool."
On the BC4 pairs side, the trio of Alison Levine (Cote Saint-Luc, QC), Iulian Ciobanu (Montreal, QC) and Marco Dispaltro (St-Jerome, QC) continued their streak of success staying undefeated in the preliminary rounds with another win against Croatia and finished first in their pool. The semi-final game against Russia was extremely close, a back and forth match with a couple of lead changes, but ultimately handing Canada their first loss of the tournament at the worst possible moment. Tied 3-3 after regulation, Russia scored one in the extra end, leaving Canada to play for bronze.
In the bronze medal match-up, United Kingdom came ready to play and for revenge from their 6-3 preliminary round loss to Canada yesterday. The score was tied 2-2 going into the third end, but Canada was unable to effectively hide their jack with their six balls, which allowed the United Kingdom to score three points. "It was hard to come back in the fourth end after giving our opponent three points," noted BC4 coach César Nicolai. "At this level of competition, there is no room for nearly, we have to be perfect, and weren't today." "For our BC4's, we had hoped for a better outcome especially with the perfect day yesterday." expressed Delilse.  "I'm sure we had the best trio of players here but we have to find a way to stay consistent to accomplish our goals."
In total, Canada finished the World Open tournament with the single BC3 pairs silver medal. Canada returns to action at the World Championships in Liverpool, United Kingdom, August 9-19th.  For a full list of results from the individual and pairs competition, visit www.BISFed.com.
Results Summary
BC3 Pairs
Canada 3, Russia 2
Canada 3, Portugal 2
Canada 5, Thailand 5
Semi-final
Canada 4, Spain 0
Final
Canada 1, Greece 4
BC4 Pairs
Canada 4, Croatia 3
Semi-final
Canada 3, Russia 3
Third vs Fourth (Bronze Medal)
Canada 2, United Kingdom 6
-30-
For media inquiries:
Natalie Antoine
613-608-4347
Bussière and Lord Claim Silver in BC3 Pairs