For Immediate Release
Sept 24, 2017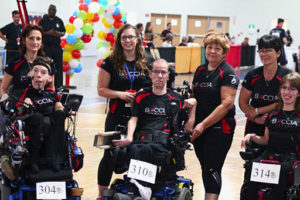 (Kansas City, USA) Eric Bussiere (Vercheres, QC), Bruno Garneau (Montreal, QC) and Marylou Martineau (Quebec, QC) went undefeated in the BC3 Pair event on the first day of the BISFed Kansas City World Open. They cemented their playoff spot with 7-1 victories over Argentina and the USA. Anchored by a strong performance from veteran Garneau, the pair maintained their composure even under adversity.
"After making a mistake in the first end, I was able to move on and refocus quickly," said Garneau. "I've been working on that since our last competition in Cali and I'm happy I was able to deal with it here."
That's exactly the attitude BC3 Coach Kristin Dorrance was looking for to open the competition. "They had opportunities and they didn't miss. They stayed calm, executed shots well and stayed in control."
The BC4 pair of Marco Dispaltro (St. Jerome, QC), Alison Levine (Montreal, QC) and Iulian Ciobanu (Montreal, QC) split their games with a win against Bermuda and a loss to Colombia. Dispaltro credited his teammate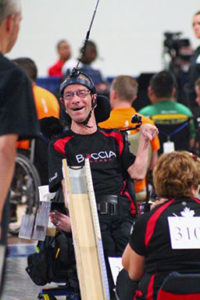 s for keeping the pressure on Colombia.
"We were down three nil, but Alison and Iulian did a wonderful job to come back to tie the game. In the fourth end, we thought Colombia might be a little shaken up, but they came back with a perfect first ball, at eight meters. It's really hard to move the ball at that distance so we tried to minimize the damage, but in the end we lost by three."
The pair is still in contention for the playoffs. "If we win our two games tomorrow we'll advance for sure," said Coach Cesar Nicolai, "but Argentina and Great Britain will both be a good challenge for us." No one wants a Canadian win more than Nicolai, who is coaching at his first competition since becoming a Canadian citizen last week.
The BC1/2 team of Adam Dukovich (London, ON), Mike Mercer (St. John's, NL), Josée Lamothe (Trois-Rivières, QC) and Eric Lefebvre (Montreal, QC), had a rougher day and will not advance.
The Team and Pair event concludes tomorrow. For a full list of results visit www.BISFed.com.
Daily Results:
Team BC1/2
Canada 2 – 5 Argentina
Canada 1 – 7 Slovakia
Pair BC3
Canada 7 – 1 United States of America
Canada 7 – 1 Argentina
Pair BC4
Canada 11 – 0 Bermuda
Canada 3 – 6 Colombia
BUSSIERE, GARNEAU AND MARTINEAU UNDEFEATED ON DAY 1 OF BISFED KANSAS CITY WORLD OPEN