For Immediate Release
September 13, 2016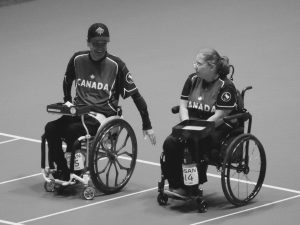 (RIO DE JANEIRO, Brazil) This afternoon Canada went head to head in BC4 individual boccia competition. Alison Levine (Montreal, QC) took on long time friend and mentor Marco Dispaltro (St. Jerome, QC) in their first match of pool play.
"You travel how many kilometers to come to the Paralympics and you face your teammate to start with" says Dispaltro, "It is the luck of the draw and it sucks. You just have to make the best out of it."
Teammates or not, both athletes kicked off the game with high calibre play in the first end. Dispaltro was able to come out on top with one point to finish the end. The turn around came in the second end where Dispaltro forced Levine to throw five balls. Levine pushed her ball right against the jack and played great defense in front of the jack, but Dispaltro threw a great lob directly on top of the jack creating a lot of space to score four points and take a commanding 5-0 lead.  In the third and fourth ends Levine came back strong, making perfect scoring shots, but Dispaltro was able to defend the jack well enough to hold Levine to just two points. The final score was Dispaltro 5 Levine 2.
Levine states, "Playing against your teammate is never easy. I had one really bad end where I couldn't take control of the jack and left Marco with four or five balls. For a player of his calibre, if you leave him with a couple of balls they are going to score points. The rest of the game went really well. My placement was great and I did the shots I needed to."
Pool play continues tomorrow for both Levine and Dispaltro as they face Chinese athletes Yuansen Zheng and Ximei Lin. Both will need to win their games in order to guarantee a spot in the quarter finals. If they are able to place first and second in their pool and advance to the semi-finals, the teammates could face each other again once more in Rio for the gold medal match.
In BC3 competition, Eric Bussiere (Vercheres, QC) experienced an unfortunate loss against Kenneth Verwimp of Belgium. A win against Verwimp, ranked twenty-seventh in the world, was Bussiere's best chance at getting out of a tough pool in the preliminary rounds. For the BC3's, each pool consists of just three athletes, creating a narrow route to enter the quarter finals.
Head coach Mario Delisle states, "It was a disappointing game for Bussiere. Verwimp is a very beatable player and Bussiere was not able to capitalize at the right moments when Verwimp did. In the fourth end Eric was too aggressive and Verwimp was able to score four points."
Bussiere was strong in the first end allowing him to score one point, but wasn't able to keep the lead though for the entire game. In the final end, though a hard fought battle, Verwimp took the lead when Bussiere left the jack open. Bussiere played an aggressive final end to try and turn the game around, but unfortunately it did not work in his favour this time around. The final score was 7-2 for Verwimp.
"I played well during the first three ends, unfortunately I had one bad end and it should not have happened," says Bussiere, "I had this game in my hands, but I let it go. I am trying to stay positive and focus on my next opponents tomorrow."
Tomorrow Bussiere faces world number two Han Soo Kim of Korea. It will be a crucial game for Bussiere if he wants to see himself on the podium.
It was a closer first game for BC3 player Bruno Garneau (Montreal, QC) who played world number six Jose Carlos Macedo of Portugal. With Garneau being ranked 43rd in the world, on paper it looked like a complete mis-match, but Garneau came out fighting, determined to push the veteran Macedo as much as possible.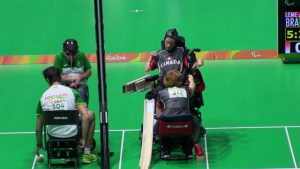 In the first end Garneau played a strong scoring shot that forced Macedo to play all of his balls in an unsuccessful attempt to dislodge Garneau's. Garneau then had golden opportunity to build on his one point lead with his remaining balls, but wasn't able to capitalize. In the second end Macedo placed his jack out of bounds. Control of the jack then passed to Garneau who took advantage of the opportunity, played solid defense and took another point. The third end saw Macedo place a ball directly on top of the jack which Garneau successfully displaced, but it was not enough to score any additional points leaving Macedo still in the game, but still down 2-1 and Garneau just one end away from a major upset.
In the final end, Macedo did repeat his earlier error, placing his jack deep in the court and following up with a strong scoring ball. Garneau was forced to respond, but seemed stymied by the long game, as he struggled to play his balls with precision at the longer distance and stay within the time limit. In the end, Macedo was able to take six points to win the game 7-2.
"I am disappointed" states Garneau, "because I felt I was playing well in the first two ends and Macedo was making a lot of mistakes. I should have scored more points in the first two ends."
Garneau played his final pool game against the defending 2012 gold medalist Ye Jin Choi of Korea. Garneau put up a solid fight in his final game, but was not able overcome Choi, who took the game 8-1. With two losses, Garneau did not advance.
Tomorrow's Games (EST):
BC3:
11:00 Eric Bussiere (CAN) vs Han Soo Kim (KOR)
BC4:
11:00 Marco Dispaltro (CAN) vs Ximei Lin (CHN)
11:00 Alison Levine (CAN) vs Yuansen Zheng (CHN)
6:00 Marco Dispaltro (CAN) vs Yuansen Zheng (CHN)
6:00 Alison Levine (CAN) vs Ximei Lin (CHN)
Media Contact:
Kaymin Roorda, Marketing and Communications Coordinator
Cell: 613-806-5669
Email: kroorda@bocciacanada.ca
CANADA AIMING FOR BOCCIA QUARTER FINALS