For immediate release
Sao Paulo, May 25, 2018 – After the second day of team and pairs competition, Team Canada is guaranteed at least one more medal at the BISFed 2018 Sao Paulo Boccia Regional Open. The BC3 pairs competed in a perfect match, winning against Peru by a wide margin, while the BC1/BC2 struggled to retain yesterday's winning form, losing both of today's matches.
Marylou Martineau (Québec, QC), Philippe Lord (Blainville, QC) and Eric Bussière (Verchères, QC) all contributed to an 11-0 win against Peru. "Our communication throughout the match proved to be beneficial to our success. After a nervous start on my end, my teammates helped me become more confident. This lead to a great momentum swing in our favour," added Bussière.
There is no playoff round in the team and pairs competition, so the BC3 pairs finish their tournament with a final pool game against world number one Brazil tomorrow morning. With both pairs undefeated so far, it is the de facto gold medal matchup. "I am very proud of my teammates, Lord and Martineau, for how we competed today as a united team. I'm looking forward to see what we can bring to the table tomorrow against Brazil," added Bussière.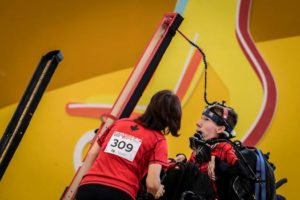 In the BC1/2 team event, Josée Lamothe (Trois-Rivières, QC), Hanif Mawji (Burnaby, BC) and Benoit Ostiguy (Montreal, QC) found themselves down 3-0 early in the game and struggled to score the necessary points for a comeback. In their second game against Mexico, Canada took the early lead, but couldn't hold on through the next five ends. "The match started off great," said Head Coach Mario Delisle. "We were tied 3-3 going into the fourth end. Giving Mexico four points in the fourth end really hurt our chances of winning." The team still has a shot for a bronze tomorrow if they win their final match against Ecuador. Team and pairs competition finishes tomorrow. For a full list of results and schedule, visit www.BISFed.com. Follow live at https://www.youtube.com/watch?v=max3peCLi3wQ.
Results Summary
Team BC1/BC2
Canada 1, Brazil 7
Canada 3, Mexico 9
Pairs BC3
Canada 11, Peru 0
-30-
For media inquiries:
Natalie Antoine
613-608-4347
nantoine@bocciacanada.ca
Canada in the Hunt for Team and Pairs Medals in Sao Paulo