For Immediate Release
April 29, 2017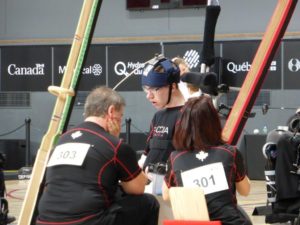 (Montreal, QC) Canada dominated play today at the Montreal Regional Open presented by Defi Sportif AlterGo, winning 16 of 19 games, putting them on track for a wave of red and white on the podium tomorrow. With many athletes advancing into the qualification round, the Canadians continue to prove they will not give up their home court.
The game of the day came mid afternoon when BC3 athlete Philippe Lord (Montreal, QC) faced American Joseph Avellone. Lord won the coin toss and opted for blue balls, which meant deferring control of the first jack to Avellone. With this, Lord saw where Avellone was likely to play and mapped out a strategy to take control of the game.
Lord made his move in the second end, first knocking out Avellone's final ball to give himself plenty of room to score. Thanks to an earlier violation to Avellone, Lord was awarded a penalty shot. He scored this extremely difficult shot without missing a beat, taking four points in the end. This end gave him the momentum he needed to sweep the rest of the game. In the third end, Avellone placed the jack deeper in the court but he was still no match for Lord, who waited until Avellone had exhausted all his balls and then found a clear path to score two more points. Lord didn't ease up in the final end, placing his jack far to the left, creating a tough angle for the American. Although he came just short on scoring on a second penalty shot, Lord scored three more points for a 9-1 win.
"I am very happy! I was not nervous at all and I felt very confident. I had a game plan and I stuck to it," said Lord. "I was very well prepared and played strategically. I pounced on his weaknesses which resulted in lost balls and two penalty shots where I was able to capitalize on one!"
Lord has two more pool games before heading into the qualification round tomorrow.
It was also great day on the BC1 front, as rookie Lois Martin (St. John's) and returning veteran Eric Lefebvre (Montreal, QC) both secured victories. Lefebvre finished with two victories, guaranteeing him a spot in the playoff round tomorrow.
It was a tough start for Martin, who faced world number eighteen Eduardo Ventural of Mexico in her first game. Martin held her own, giving up only two points per end. Martin's first international win came at the end of the day against Brigid Mason (USA). It was a close match, with Martin sneaking ahead in the final end for a 4-3 victory.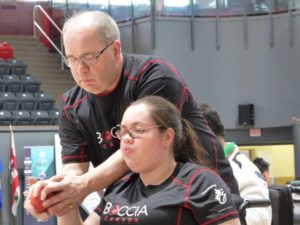 It was a Canadian sweep in the BC2 division games, with the sole loss coming when teammates Tammy McLeod (London, ON) and Benoit Ostiguy (Montreal, QC) met in pool play. Their hard fought battle ended in a draw and an overtime win by McLeod. Mike Mercer (St. John's, NL) also dominated the court today with two high margin victories over Yushae Andrade (Bermuda) and Matt Hilder (USA).
In the BC4 division, both Marco Dispaltro (St. Jerome, QC) and Alison Levine (Côte- Saint Luc, QC) were undefeated and secured spots in the qualification round. Iulian Ciobanu (Montreal, QC) faces a must-win situation in his final pool game for a chance to make the podium.
Medal rounds begin tomorrow.
Game Day Summery:
| | | | | |
| --- | --- | --- | --- | --- |
| 9 am | Lois Martin (CAN) | 0 | 8 | Eduardo Ventural (MEX) |
| | Eric Lefevbvre (CAN) | 1 | 4 | Eduardo Sanchez Reyes (MEX) |
| 10am | Adam Burnett (USA) | 0 | 12 | Alison Levine (CAN) |
| | Iulian Ciobanu (CAN) | 1 | 4 | Marco Dispaltro (CAN) |
| 11 am | Philippe Lord (CAN) | 1 | 3 | Eric Bussiére (CAN) |
| | Mike Mercer (CAN) | 7 | 1 | Yushae Andrade (BER) |
| | Benoit Ositguy (CAN) | 4 | 4 | Tammy McLeod (CAN) |
| 12:45 | Lois Martin (CAN) | 1 | 5 | Omar Hayward (BER) |
|   | Eric Levebvre (CAN) | 3 | 1 | Conelius Oatis |
| 1:45 | Karla Manuel Enriquez (MEX) | 2 | 7 | Alison Levine (CAN) |
|   | Bobby Jackson (USA) | 0 | 12 | Iulian Ciobanu (CAN) |
|   | Scott Richards (USA) | 4 | 10 | Marco Dispaltro (CAN) |
| 2:45 | Mike Mercer (CAN) | 13 | 1 | Matt Hiltner (USA) |
|   | Michele Lynch (USA) | 0 | 9 | Tammy McLeod (CAN) |
|   | Irving Montiel Hernandez (MEX) | 2 | 4 | Benoit Ostiguy (MEX) |
|   | Marylou Martineau | 1 | 10 | Eric Bussiére (CAN) |
|   | Joseph Avellone (USA) | 1 | 9 | Philippe Lord (CAN) |
| 4:00 | Lois Martin (CAN) | 4 | 3 | Brigid Mason (USA) |
|   | Thomas Zweidinger (USA) | 1 | 4 | Eric Lefebvre (CAN) |
CANADA STEALS THE SHOW ON DAY TWO OF MONTREAL REGIONAL OPEN