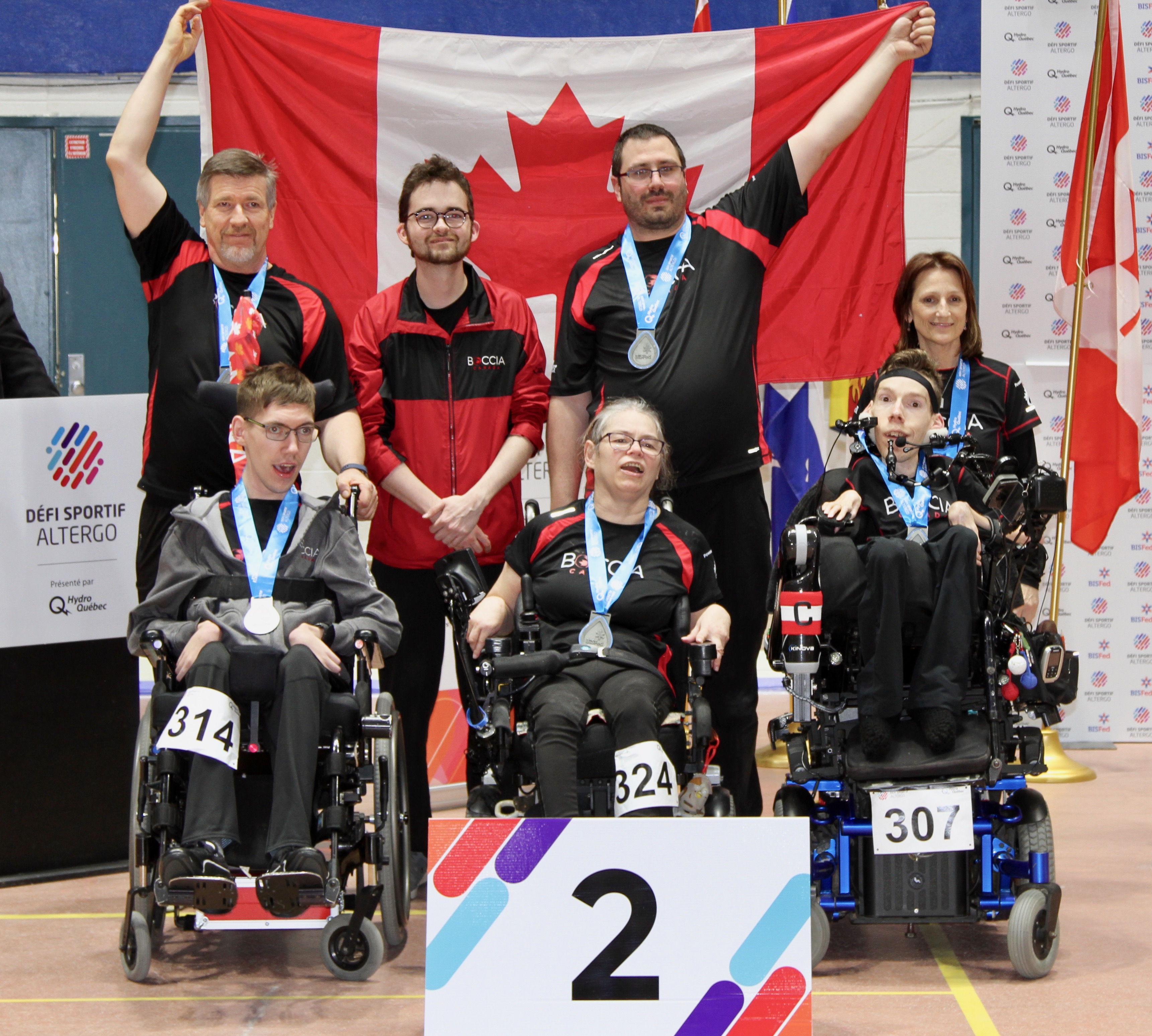 Montréal May 4, 2019 – Needing to win to move on at the 2019 Montréal Boccia World Open, the BC3 National Boccia Team members showed they can compete under pressure on the world stage led by Éric Bussière (Verchères, QC), veteran and leader of the team, Philippe Lord (Blainville, QC) and Joëlle Guérette (Montréal, QC).
In a morning tilt against the evenly matched and closely world ranked team from Portugal, Canada jumped out to an early 3-0 lead after the first end and didn't look back, eventually prevailing 5-1.  Next-up was a semi-final match against France, another team Canada is neck-and-neck with in world rankings and contending to get top eight status.  Tied heading into the final end, the Canadians demonstrated patience scoring one point and securing their spot in the finals.
The gold medal final against Poland was a rematch from the preliminary round where Canada came out on top 4-3, having snatched victory from the Polish team by scoring three in the final end.   This time, however, the Canadians had difficulty setting their pace, while Poland were eager to erase the result from yesterday's match.  The 5-1 final score gave Poland the gold medal, relegating Canada to a silver but jumping seven spots from their performance the previous year at this event.
Simon Larouche, BC3 Coach reflected on the win, "we envisioned gold but we are definitely satisfied with this win. We made a lot of changes over the course of the year and we're progressing towards our objective. The medal today will help us break into the top eight world ranked BC3 Pairs and our goal is apparent, we want to qualify for the Tokyo 2020 Paralympics."
The BC3 Team do not have a lot of time to enjoy their silver medal from Montréal, as their next competition starts May 13th when they travel to the Hong Kong Boccia World Open.
As for other Canadians competing in the Montréal World Open, the BC1/BC2 Team had several tough losses and were unable to advance to the medal round.  The team is comprised of five athletes including Danik Allard (Bois-des-Filion, QC), Mike Mercer (St. John's, NL), Josée Lamothe (Trois-Rivières, QC), Kristyn Collins (St. John's, NL), and Lance Cryderman (Val Caron, ON).
The BC1/BC2 Team put up a good fight and although there is still a lot to learn, there is definite hope for the future. Ed Richardson, BC1/BC2 Team Coach explains that they are going to use this experience to train harder in hopes of achieving a podium finish at the America Regional Championships this October in São Paulo, Brazil.  In order to improve the team's performance at future events Richardson noted, "We will be working on communication and different game strategies as all these athletes are great boccia players, but just need more time together to perform well."  Three out of the five athletes in the Team category had never attended an International event prior to the 2019 World Open competition in Montréal.
The BC4 pairs were medal hopefuls going into the Montréal World Open with a veteran team consisting of Alison Levine (Côte Saint Luc, QC), Marco Dispaltro (Saint-Jérôme, QC), and Iulian Ciobanu (Montréal, QC). A 2-0 record to start the competition was followed by two straight loses to Columbia and South Korea, ultimately not good enough to advance to the medal round.
BC4 Coach César Nicolai explains, "We had a big advantage after beating Slovakia in our pool who are ranked number one in the world for BC4 Pairs. Unfortunately, afterwards, we were unable to capitalize on that win. Moving forward we need to execute our shots consistently and specifically, when the jack is open. The goal is to have a podium finish in this event with the BC4s."
National Team Head Coach, Mario Delisle has his eyes clearly set on Tokyo 2020, "The Montréal World Open was good for Team Canada because we have collected important ranking points. Going forward we have identified aspects to work on in order to qualify for the 2020 Tokyo Paralympic Games."
For more information on the National Boccia Training Squad or the Montréal Boccia World Open, please visit www.bocciacanada.ca
About Boccia Canada
Boccia Canada is the boccia delivery arm of the Canadian Cerebral Palsy Sports Association (CCPSA), the National Sport Organization for the Paralympic sport of boccia. Boccia Canada is focused on providing athletes and individuals of all ages and skill with the chance to play a unique Paralympic sport. CCPSA collaborates with partners to increase the participation of Canadians with cerebral palsy and related disabilities in sport and physical activity, while leading, developing and growing boccia from grassroots, to producing World and Paralympic Champions.
About boccia
Boccia is a Paralympic sport of precision and strategy similar to lawn bowling or curling, played by athletes with Cerebral Palsy, Muscular Dystrophy and related disabilities. It is one of only two Paralympic sports that do not have an Olympic counterpart. Athletes compete in one of six sport classes based on their level and type of disability: BC1, BC2, BC3 BC4, BC5, and Open. For more information on boccia, visit http://bocciacanada.ca.
---
Media Contact
Holly Janna
Email: hjanna@bocciacanada.ca
Phone number: (613) 748-1430
Canada Strikes Again with a Silver in BC3 Pairs at the 2019 BISFed Montréal Boccia World Open