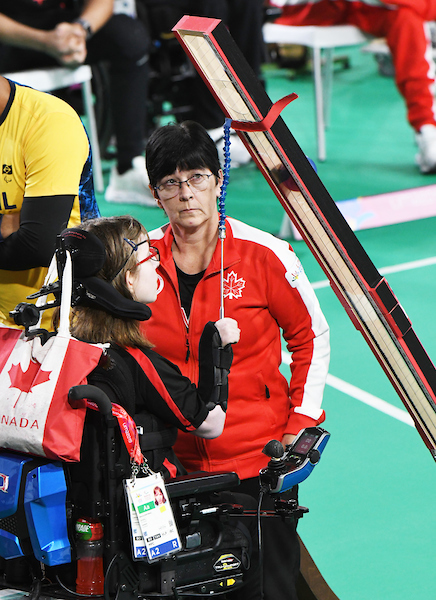 Photo: Scott Grant, Canadian Paralympic Committee
Lima, Peru (September 1, 2019) – Canada won double bronze in pairs to wrap up the boccia event with three total medals at the 2019 Lima Parapan American Games.
With teammates Iulian Ciobanu (Montréal, QC) and Alison Levine (Montréal, QC), Marco Dispaltro (Saint-Jérôme, QC) added a Pairs bronze to his individual gold. The trio entered the competition as favourites to top the podium, but they had to settle for bronze after facing stiff competition from long-time rivals Brazil and Colombia.
Winning his first individual gold since 2014 in Lima seems to have reignited the competitive fire for Dispaltro. "I'm like the Gordie Howe of wheelchair sports but Gordie's not set to retire just yet. When you have your share of success sometimes the hunger goes away, but I think the hunger's back."
The BC3 Pair of Marylou Martineau (Québec City, QC), Éric Bussière (Verchères, QC), and Philippe Lord (Blainville, QC) went into the final day of competition with a 1-1 record. They were almost able to force a tiebreak in their last game versus Brazil but were not able to capitalize on a penalty shot in the last play of the game to get the equalizer. Despite the loss, the pair was still able to take the bronze medal.
Pairs captain Bussière enjoyed soaking in the experience of the Games: "I think we gave Canadians a good show. We had tiebreaks in two of our games. Every match that I played was enjoyable. The spectators [in Peru] are definitely loud and encouraging. The volunteers have been taking photos with all of the competitors – we're like stars! It's a privilege and very fun."
Head Coach, Mario Delisle noted, "the level of play was higher than ever in the Americas. Colombia and Argentina have very good athletes in all classes and challenged us. Brazil, as always, are very good competitors, especially in Team and Pairs play. Some amazing shots were thrown throughout the Games, including by Dispaltro. He was on fire and certainly deserved the gold. I have not seen him playing like that for a while and loved watching the fire in his eyes throughout the event.
The team will now set their sights on the upcoming BISFed Americas Regional Championships in Sao Paulo later this month. This event is a direct qualifier for the 2020 Tokyo Paralympic Summer Games.
"Overall we have learned a lot of things that will need to be applied in Sao Paulo. We are going back with specific objectives to work on in the next three weeks before the Championships," says Delisle.
For Dispaltro, that means taking that gold medal feeling and plugging it in to preparations for Sao Paulo.
"We're going to keep our training regimen going. We believe in ourselves. We've had a lot of breakthroughs in the past couple of months. We're a strong unit and it's just a matter of time that we put it all together to show the world what we really can do."
For all news updates from the 2019 Lima Parapan American Games visit https://bocciacanada.ca/news-events/.
For detailed results of the boccia event visit https://www.lima2019.pe/en/results.
About Boccia Canada
Boccia Canada is the boccia delivery arm of the Canadian Cerebral Palsy Sports Association (CCPSA), the National Sport Organization for the Paralympic sport of boccia. Boccia Canada is focused on providing athletes and individuals of all ages and skill with the chance to play a unique Paralympic sport. CCPSA collaborates with partners to increase the participation of Canadians with cerebral palsy and related disabilities in sport and physical activity, while leading, developing and growing boccia from grassroots, to producing World and Paralympic Champions.
About boccia
Boccia is a Paralympic sport of precision and strategy similar to lawn bowling or curling, played by athletes with Cerebral Palsy, Muscular Dystrophy and related disabilities. It is one of only two Paralympic sports that do not have an Olympic counterpart. Athletes compete in one of six sport classes based on their level and type of disability: BC1, BC2, BC3 BC4, BC5, and Open. For more information on boccia, visit http://bocciacanada.ca.
---
Media Contact
Holly Janna
Email: hjanna@bocciacanada.ca
Phone number: (613) 748-1430
Canada Wins Double Boccia Bronze to Close 2019 Parapan Games