For Immediate Release
Sept 25, 2017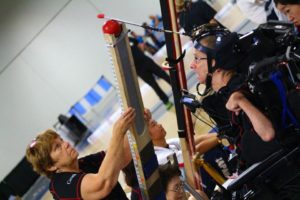 (Kansas City, USA) Both the BC3 and BC4 pairs landed on the boccia podium in Kansas City today.
The BC3 pair of Bruno Garneau (Montreal, QC), Eric Bussiere (Vercheres, QC) and Marylou Martineau (Quebec, QC) faced Great Britain in the semi-finals. It was a tightly fought match. Great Britain took the early lead with single points in the first two ends, but Canada soon closed the gap. In the fourth end, veteran Bruno Garneau made an incredible precision strike to put Canada in game-winning position. He was foiled by Great Britain's Patrick Wilson, who made a neat little take-out shot to keep the game to a tie.
In the tense tie-break end, Garneau again made the game winning shot with his final ball to clinch a berth in the final. "It's been such a long road for us," said proud coach Kristin Dorrance. "One of our best players was injured last year and we had a very disappointing competition in Cali. It's just such a great feeling to come here and perform in every game and do what we needed to do to get a medal today."
The BC3's faced Australia in the gold medal match. Australia came into the tournament as underdogs but have had a very strong showing. After giving up three points in the third end, Canada mounted a comeback in the last end, but ultimately fell just short.
"They didn't give up. They had good positive energy. It's always hard to end the day on a loss, but it's a silver medal, so there's nothing to be sad about."
After a tough loss to Germany in the BC4 pairs semi-final, Marco Dispaltro (St. Jerome, QC), Iulian Ciobanu (Montreal, QC) and Alison Levine (Montreal, QC) rebounded to win bronze with a 7-1 win against Croatia. Croatia was unknown to Canada coming in, so the pressure to perform was high with little knowledge of their competitor.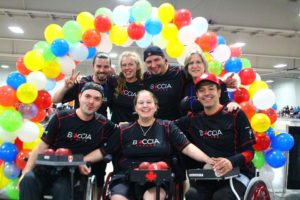 "We started off very strong and we just didn't leave them any opportunities," explained Dispaltro. "In the first two ends we played 'lights out' and they just couldn't do anything."
BC4 coach, Cesar Nicolai, was impressed with the team's ability to take on an unknown opponent and play their best.
"They were impeccable. They play together all the time, each of them individually strong. When they play together like this, they can beat anyone in the world."
The BC1/2 Team faced home team USA this morning in their final pool game and lost a close match in overtime.
Individual play begins tomorrow. For a full list of results see www.bisfed.com.
Today's Results:
Team BC1/2
Canada 4 – 4* USA
BC3
Canada 7 – 8 Japan
Semi-Final: Canada 2* – 2 Great Britain
Final: Canada 3 – 5 Australia
BC4
Canada 6 – 0 Argentina
Canada 3 – 2 Great Britain
Semi-Final: Canada 1 – 5 Germany
Bronze: Canada 7 – 1 Croatia
CANADA WINS SILVER, BRONZE AT KANSAS CITY WORLD OPEN