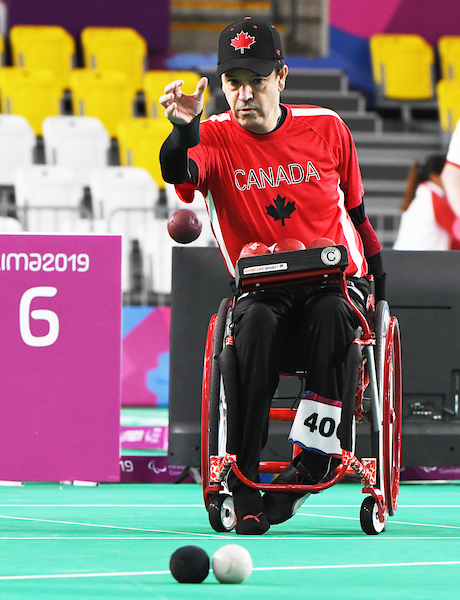 Photo: Scott Grant, Canadian Paralympic Committee
Lima, Peru (August 30, 2019)– Day two of the competition was packed with action with the round robins finishing up before the quarterfinals and semifinals kicked off. In the end, four Canadians advanced to the quarterfinals and two advanced to the semifinals.
The round robin finished up today with Hanif Mawji (Burnaby, BC), Marylou Martineau (Québec City, QC), and Philippe Lord (Blainville, QC) unsuccessful in advancing to the next round. Lord was off by a two-point differential in his pool after a 4-1 game against Belen Ruiz in the round robin play. It was a very tight match and Lord battled the Argentinian's placements with smashes to gain points next to the jack.
Four Canadian athletes advanced to the quarterfinals: Alison Levine (Montréal, QC), Iulian Ciobanu (Montréal, QC), Marco Dispaltro (Saint-Jérôme, QC), and Éric Bussière (Verchères, QC). Ciobanu delivered several risky but strategic shots that allowed him to one-up Levine, the number one seed in the BC4s and fellow teammate. Ciobanu roll up and over shot gives him three points in the second end alone, which throws Levine off quilter. In the meantime, Dispaltro seals the win against Ercileide Laurinda to advance to the semifinals against fellow teammate, Ciobanu. Bussière does not advance to the semifinals after a 7-0 defeat against Colombian, Jesus Romero.
In the semifinals, Dispaltro and Ciobanu face each other. The second end was the turning point as Dispaltro succeeds in depleting all of Ciobanu's balls and is left to counter with four balls to throw. The game ends 7-1 for Dispaltro. Canada is guaranteed a silver medal with Dispaltro playing in the finals against 2ndseed at this tournament, Colombia's Euclides Grisales. Ciobanu will play for the podium in his bronze medal match against Duban Cely, also of Colombia. There will either be two Colombians on the podium for the BC4 individual event tomorrow or two Canadians.
Visit https://bocciacanada.ca/news-events/for the most up-to-date news
Watch the livestream and keep track of the results at the 2019 Lima Parapan American Games.
Éric Bussière (BC3) – "The tournament started well yesterday with a win eleven to zero. My second game yesterday I lost but because of the point differential, I advanced to play the Colombian. Today, it was a bit more difficult. Even though I lost in the quarters, I will try to remain positive and concentrate on the Pairs play tomorrow."
Marco Dispaltro (BC4) – "It's never easy to play a teammate. The games sometimes turn on a play. I was very lucky in the second end. I hit his balls away and my balls stuck there. I know Iulian is going to do great tomorrow and we want to see Canada first and third. It's been a while since I've been in this position so it feels fantastic…Hopefully tomorrow the result will go as I expect it to."
Iulian Ciobanu (BC4) – "I'm very excited because it's my second semifinal game of my career at an international competition. On the other hand, it was not an easy game because I played against Alison, my teammate. Even though I had to play my teammate, you still have to do your best… The turning point of the match was the second end. After yesterday's first game I felt that I had broken the ice. It gave me a lot of confidence… Now, I'm going to go to rest and give all I have tomorrow in the bronze medal match."
Mario Delisle (Head Coach) – "We have an athlete going for gold tomorrow and another athlete playing for the bronze medal so we may have two athletes on the podium in the BC4 class. In regards to the BC3s it is disappointing and they had a chance earlier today to advance. Philippe was very close to reaching the quarters but it came down to a difference of 2 points. Éric Bussière had a bit of a bad day today and usually he is much better than that. Now it's time to refocus before tomorrow… We're certainly ready for the Pairs BC3 and BC4 so we will be looking forward to that starting tomorrow. This tournament is a very good preparation for Sao Paulo which is in three weeks from now. It is the most important tournament in the year. The BC3 and BC4 Pairs are going to be tough to beat."
About Boccia Canada
Boccia Canada is the boccia delivery arm of the Canadian Cerebral Palsy Sports Association (CCPSA), the National Sport Organization for the Paralympic sport of boccia. Boccia Canada is focused on providing athletes and individuals of all ages and skill with the chance to play a unique Paralympic sport. CCPSA collaborates with partners to increase the participation of Canadians with cerebral palsy and related disabilities in sport and physical activity, while leading, developing and growing boccia from grassroots, to producing World and Paralympic Champions.
About boccia
Boccia is a Paralympic sport of precision and strategy similar to lawn bowling or curling, played by athletes with Cerebral Palsy, Muscular Dystrophy and related disabilities. It is one of only two Paralympic sports that do not have an Olympic counterpart. Athletes compete in one of six sport classes based on their level and type of disability: BC1, BC2, BC3 BC4, BC5, and Open. For more information on boccia, visit http://bocciacanada.ca.
---
Media Contact
Holly Janna
Email: hjanna@bocciacanada.ca
Phone number: (613) 748-1430
Canada's BC4s Advance to Compete for Gold and Bronze Medal at the 2019 Parapan Ams