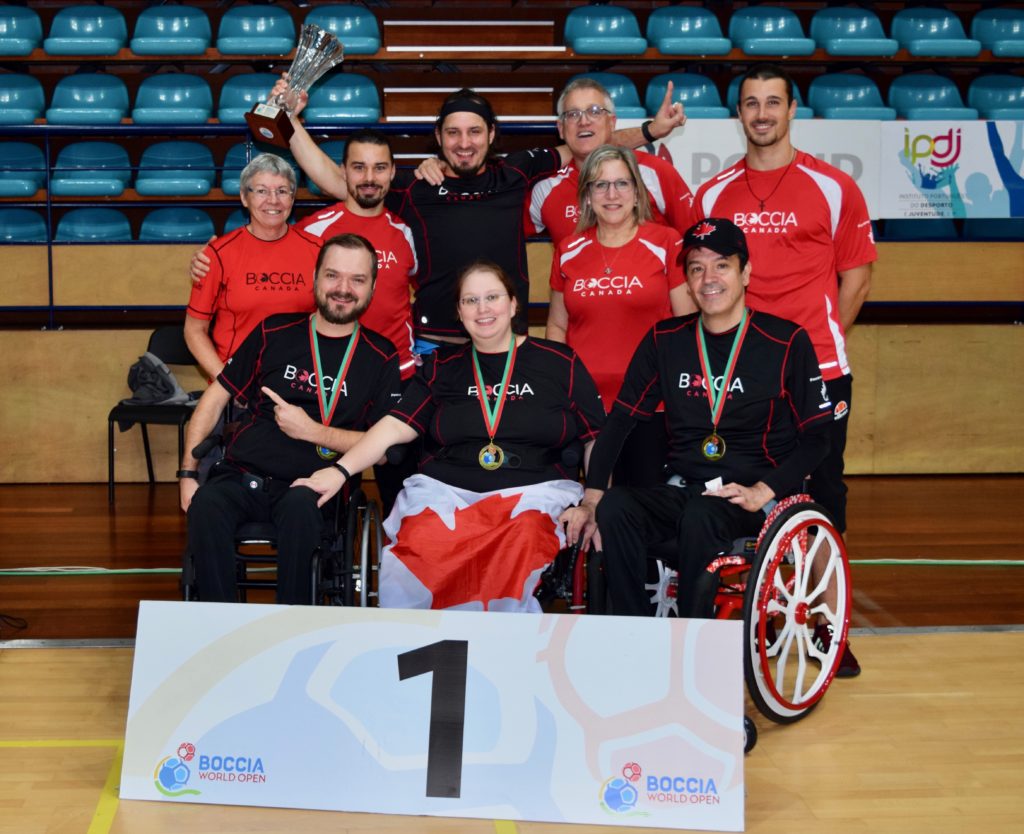 Povoa, Portugal (November 3, 2019) – Canada's BC4 pairs punched their ticket to Tokyo this weekend by winning gold at the 2019 Povoa World Open.
Canada entered the competition ranked tenth, technically holding the final Paralympic qualification slot. With eight of the top ten countries in attendance, they needed a strong finish to stay in the mix for Tokyo.
The Canadian pair of Alison Levine (Montréal, QC), Marco Dispaltro (Saint-Jérôme, QC), and Iulian Ciobanu (Montréal, QC) did not disappoint. First they marked wins against Great Britain, Russia and Croatia to place second in their pool. Then they played surprise qualifier Ukraine in the semi-final, winning 8-4 to advance to the gold medal game against Slovakia, the number one ranked pair in the world.
Although Slovakia took an early 1-0 lead, Canada responded with three unanswered points to lead 3-1 going into the final end. They held Slovakia to just one point in the final frame and won the gold 3-2. It was sweet redemption for the pair after they missed out on direct qualification a month ago at the 2019 America Regional Championships in Sao Paulo.
For Levine, it was an incredible feeling. "We've been waiting for this kind of performance for a while and it could not have come at a better time. It's a double win for us because it was our last chance to qualify for Tokyo and we accomplished it by winning the gold medal."
Canada will be moving up in rank after the win against number one pair, Slovakia.
"The best teams were here this week and we came out with the gold," explained BC4 Coach César Nicolai. "It proves that we can perform despite adversity and that we will be a team to watch in Tokyo. There is still a lot of work to be done, but we will be ready for the challenge."
Dispaltro and Ciobanu did not advance in the individual competition.
Meanwhile the BC3 pair will not qualify after Portugal steals the tenth position.
FINAL RESULTS:
| | |
| --- | --- |
| BC4 Individual | BC4 Pair |
| Iulian Ciobanu 7 – 4 Matjaz Bartol (SLO) | CAN 5 – 4 GBR |
| Marco Dispaltro 4 – 5 Niko Vasili (GRE) | CAN 4 – 8 SVK |
| Iulian Ciobanu 4 -4 Andrii Okulov (UKR) | CAN 4 – 1 CRO |
| Marco Dispaltro 1 – Carla Oliveira (POR) | CAN 7 – 2 RUS |
| Iulian Ciobanu 0 – 7 Samuel Andrejcik (SVK) | Semi-final: CAN 8 – 4 UKR |
| Marco Dispaltro 1 – 5 Stephen McGuire (GBR) | Final: CAN 3 – 2 SVK |
For full updates to the rankings and scheduled timelines visit http://www.bisfed.com.
Canada's Boccia Pairs Qualify for Tokyo