For Immediate Release
June 15, 2016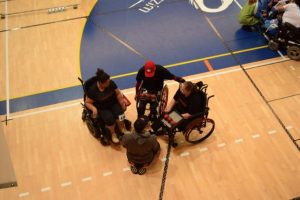 POVOA DE VARZIM- The first day of competition at the Boccia World Open in Povoa de Varzim, Portugal saw a total of four victories for Canada's boccia athletes. The BC4 pair, consisting of Marco Dispaltro (Montreal, QC), Alison Levine (Montreal, QC) and Caroline Vietnieks (Vancouver, BC), controlled the court all day, taking all three games and landing a spot in the semifinals tomorrow against Germany.
Levine comments, "The day couldn't have been any better with three wins. Marco and I were in sync on the court. We made the right decisions and throughout the day our execution went up and up."
The last game of the day pitted Canada against rivals Brazil, currently ranked third in the world. It was an opportunity for redemption after Brazil took gold from the Canadians on home soil during the 2015 Parapan American Games in Toronto.  The pair brought their 'A' game as they worked well together and capitalized on every shot, leaving no openings for Brazil, and ultimately sweeping all four ends for a 6-0 triumph. "Today was an excellent day for the BC4's and the have showed their best boccia. Just like in training, they were calm, in control all day and were having fun on the courts. This is what coaches want to see. It was a pleasure to watch!" commented head coach Mario Delisle.
The BC4 Pair will now compete tomorrow against Germany in the semifinals. Levine remarks, "Germany will definitely bring a strong game because they are excited to make it to the elimination round for the first time ever at the international level. If Marco and I play like we did today it should be no problem!"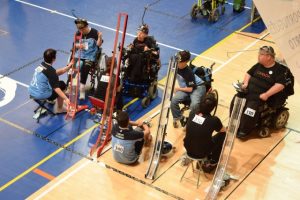 It was a tougher day for the BC3 Pair of Paul Gauthier (Vancouver, BC), Eric Bussiere (Vercheres, QC) and Phillipe Lord (St. Jerome, QC). After a strong 6-1 win against Slovakia, they were unable to win against Brazil and lost a narrow match to Russia to finish out of the playoffs. They are now preparing for the individual competition which commences Thursday, June 16.
Official Results for Pairs- June 15, 2016
BC3
Canada 3 Russia 4
Canada 6 Slovakia 1
Canada 1 Brazil 7
 BC4
Canada 5 Portugal 3
Canada 8 Slovenia 1
Canada 6 Brazil 0
Media Contact:
Jennifer Larson, Program Manager
Cell: 613-890-5101
Email: jlarson@bocciacanada.ca
CANADIAN BC4 PAIRS DOMINATE THE COURT IN FIRST DAY AT BOCCIA WORLD OPEN IN PORTUGAL