For immediate release
(Ottawa, ON) August 7, 2018 – Six athletes have been named to the Canadian team competing at the BISFed 2018 World Boccia Championships, taking place August 12-18 in Liverpool.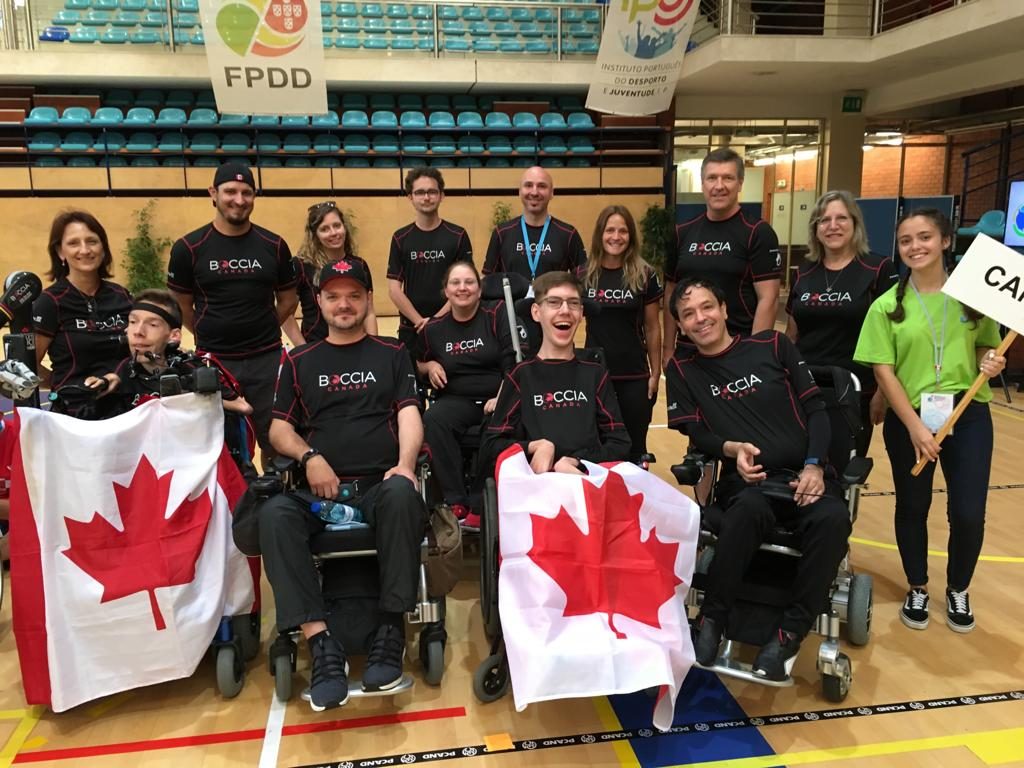 Following their silver medal success in pairs at the World Open in Portugal, Philippe Lord (Blainville, QC) and Eric Bussière (Verchères, QC) are looking to take that positive momentum into individual competition. They will be joined in the United Kingdom by BC4 teammates Alison Levine (Côte-Saint-Luc, QC), Marco Dispaltro (St-Jerome, QC), Iulian Ciobanu (Montreal, QC) and BC1 Hanif Mawji (Burnaby, QC).
Levine is currently looking to increase her ranking points and close the gap between her and the sixth ranked BC4 player in the world, while focused on reaching the podium at Worlds. Dispaltro is looking to improve upon his quarterfinal finish in Portugal. Mawji is making his first appearance since his bronze medal at the Sao Paulo Boccia Regional Open in Brazil, believing the hard work in practice was beneficial to prepare for the Worlds.
The BC4 pairs had a successful tournament in Portugal going undefeated until they reached elimination rounds. At the World Championships, they are looking to change their fate and improve their performance in those win or go home matches, and give themselves a chance to medal.
Despite being ranked 7th in the world, the Canadian BC3 pairs do not have a slot in the competition.  The World Championships invitation process cut off was December 2017, meaning the Canadian BC3 pairs podium performances in the last two international events this year are excluded, relegating the pairs to the sidelines. Although they won't be playing pairs, teammates Bussiere and Lord will be competing in individual play, and are focused on making their mark.
The BISFed 2018 World Boccia Championships brings together 190 athletes from over thirty countries who will ultimately chase seven gold medals. This competition is the biggest and most prestigious on the international calendar outside the Paralympic Games. In addition to battling for the title of world champion, the Canadians are looking to gain crucially important ranking points towards qualification for the Tokyo Paralympic Games in 2020.
These Championships also marks the first time BISFed will hold elections for an Athlete Representative. Canadian veteran Marco Dispaltro is one of five candidates vying for the role. "What an honour it would be to be elected," says Dispaltro. "I hope when all is said and done that people will recognize my sportsmanship, my love of the game, my advocacy of the Paralympic movement and my fierce resolve to get Boccia athletes recognized as the elite athletes they are."
The following athletes have been named to the team for the BISFed 2018 World Boccia Championships:
BC1
Hanif Mawji (Burnaby, BC)
BC3
Eric Bussière (Verchères, QC)
Philippe Lord (Blainville, QC)
BC4
Alison Levine (Côte Saint-Luc, QC)
Iulian Ciobanu (Montreal, QC)
Marco Dispaltro (St-Jerome, QC)
The competition takes place at the Exhibition Centre Liverpool in England. Competition starts on August 12th with the closing ceremonies on August 18th. For live results, follow www.BISFED.com
-30-
For media inquiries:
Natalie Antoine
613-608-4347
Canadian Team Announced for World Boccia Championships in Liverpool