For immediate release
Povoa de Varzim, PORTUGAL, July 7, 2018 – The first day of pairs competition at the BISFed 2018 World Open Povoa de Varzim in Portugal proved to be a great success for the Canadian BC4 Pairs who went undefeated in three matches.  For the Canadian BC3 Pairs, there was significantly more drama winning one match, and as a result of a protest, still needing to replay part of their second match tomorrow.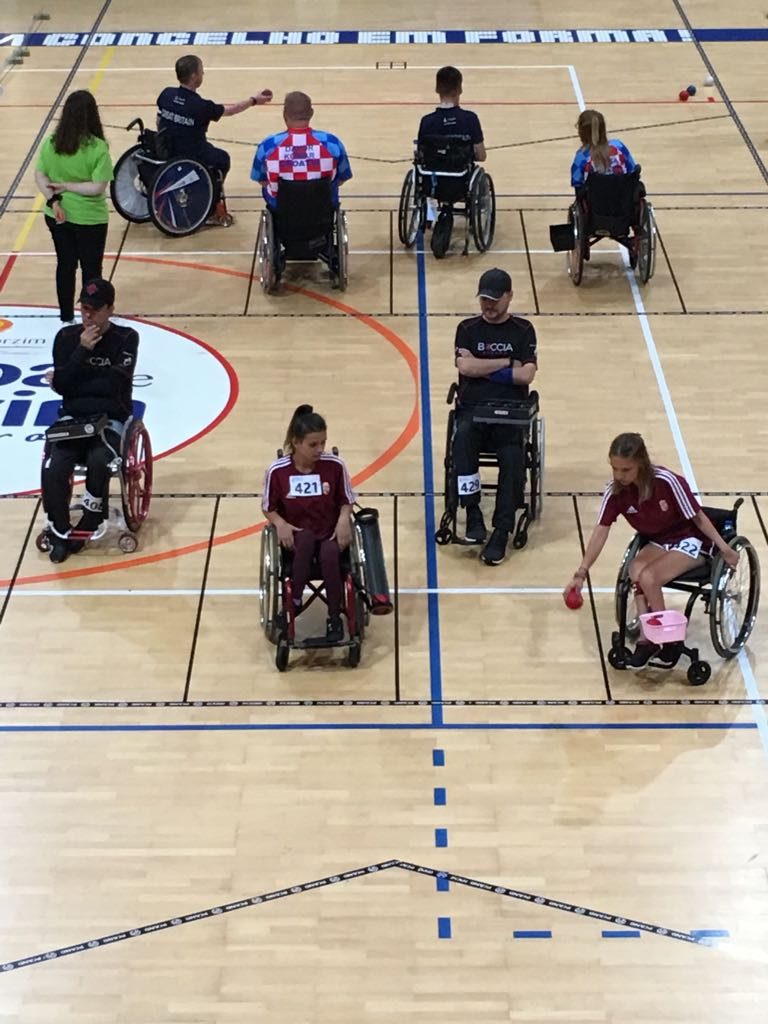 The BC4 pairs combination of Alison Levine (Cote Saint-Luc, QC) and Iulian Ciobanu (Montreal, QC) started the day with an early victory against Hungary 4-1. Their second match of the day was a highly heated competition against Great Britain. Tied three all heading into the last end, Ciobanu and teammate Marco Dispaltro (St-Jerome, QC) scored three points in the fourth for the 6-3 victory. The BC4's continued their hot streak and finished the day with another victory, an impressive 10-2 win against Portugal. Coming into this World Open, the Portuguese were considered one of the teams to beat along with Great Britain.  With a 3-0 record, Canada is now assured first place in their pool regardless of the outcome of their final pool play match tomorrow. "I couldn't have asked any better from these athletes," noted BC4 coach César Nicolai. "Alison, Marco and Iulian were so consistent today that we find ourselves in a great position. Tomorrow is another day of three games and we need to have a repeat performance of today's results in order to medal."
On the BC3 Pairs side, the drama that unfolded was nothing short of amazing. Their day began with a strong victory against Poland by a score of 5-2.  However tensions ramped up in their second game, a close matchup against Russia. Eric Bussière (Verchères, QC) and Philippe Lord (Blainville, QC) controlled the first two ends but ran into some difficulties in the final two. A third end took a turn for the negative after the Russians had lost their jack and the Canadian duo were accorded two violations by the referee. The Russians were able to capitalize on these mistakes to tie the game in the third end. However, at the end of the game, Canada put in a protest to the Head Referee and Technical Delegate. Team Canada had officially lost the match 4-3, but won their protest. Once Russia got word of the verdict, they submitted their own appeal to reverse the decision. Russia's appeal was denied and the match will be played tomorrow starting in the third end, with Canada leading 3-0.
Tomorrow's BC3 and BC4 Pairs pool play competition continues, followed by the medal rounds in the afternoon. For a full list of results and schedule, visit www.BISFed.com. Follow live at https://www.youtube.com/channel/UCrL9eWqCXh185greh_oeHAg
Results summary
BC3 Pairs
Canada 5, Poland 2
Canada ?, Russia ? * The match will be replayed tomorrow
BC4 Pairs
Canada 4, Hungary 1
Canada 6, United Kingdom 3
Canada 10, Portugal 2
-30-
For media inquiries:
Natalie Antoine
613-608-4347
Ciobanu, Dispaltro, and Levine perfect on day one of Pairs Competition