(Beijing, China- March 21) The first day of competition for the Boccia 2016 World Individual Championships in Beijing, China was full of action and excitement, but a slow start for Team Canada. With six games for Team Canada on the first day of competition yielding only one victory, the team is looking to rebound on day two.
BC3 player Eric Bussiere played a tough game against Slovakia's Adam Burianek. Bussiere took an early 3-1 lead into the final end, only to see Burianek come back to tie the match. It was a close game, but Bussiere couldn't take control of the jack during overtime, leaving Burianek to take the win.
For her first International game, BC3 player Marylou Martineau held her ground, p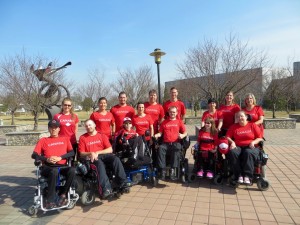 laying against World Number 7 Costa Armando of Portugal. Martineau stayed strong throughout the match and will use this for motivation in her second game.
The real excitement came in the BC4 match between Iulian Ciobanu and Stephen McGuire of Great Britain. McGuire is currently World Number 8 which made for strong competition for Iulian. It was head to head going into the final end when McGuire landed his final ball closest to the Jack and Ciobanu, having one last chance with his final ball, was unable to deliver despite the loud Canadian support from the crowd.
BC4 player Alison Levine suffered a disappointing 5-2 loss, but she is ready to rebound for tomorrow. BC4 coach, César Nicolaï looked on the bright side stating, "Nothing is finished for all the athletes. Today is behind us and we will focus on the next games tomorrow!"
Competition begins for Team Canada at the Boccia 2016 World Individual Championships in Beijing, China