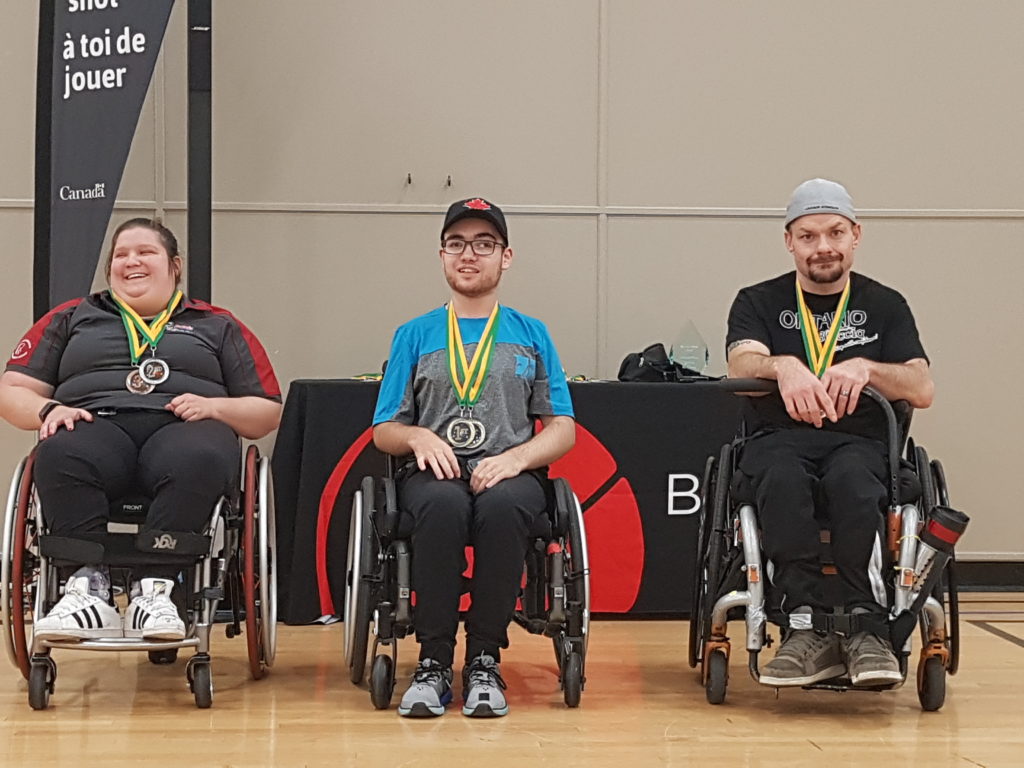 London, ON (October 20, 2019) – The London Cannonballs welcomed 44 Canadian athletes from coast to coast at the 29th annual 2019 Boccia Blast tournament this weekend.
Among the competitors were National Boccia Training Squad athletes Danik Allard (Bois-des-Filion, QC), Dave Richer (Montréal, QC), Éric Bussière (Verchères, QC), Hanif Mawji (Burnaby, BC), Hayley Redmond (St. John's, NL), Joëlle Guérette (Montréal, QC), Josée Lamothe (Trois-Rivières, QC), Kristyn Collins (St. John's, NL), Lance Cryderman (Sudbury, ON), Marylou Martineau (Québec City, QC), Mike Mercer (St. John's, NL), and Philippe Lord (Blainville, QC). National Boccia Training Squad athletes took home eight medals at the tournament, but the next generation of boccia athletes also made their presence known.
Jim Davis (Niagara Falls, ON) and Josh Gautier (St. Catherines, ON) both finished on the podium, despite stiff competition. Davis was up against five National Boccia Training Squad athletes in the BC2 class.
Sixteen-year-old Gautier had his best competition of the season, going undefeated to win gold in the BC4/BC5 category. Gautier is now looking forward to competing for Team Ontario at his first Canadian Championships at the end of November.
Although Carter Plumb (Brampton, ON) and Nico Iemma (Oshawa, ON) didn't advance to the medal round in the BC3 class, their opponents certainly took notice of the Ontario pair, who aren't even teenagers yet.
Host Organizing Committee co-chair Steve Dukovich was pleased with the mix of veteran and up and coming athletes. "There was a lot of new blood and everyone seemed to be having a lot of fun. You've got such a variety in play and the fact that it was well attended, makes it really worth-while."
Dukovich is already looking ahead to celebrating the 30th anniversary of the event in 2020. "We'd like to set a record for attendance. We want to get some people back here who've been involved for years and thank them."
"The level of play and depth of talent in boccia continues to rise and was certainly evident in London this weekend," stated Peter Leyser, Executive Director, Boccia Canada. "Congratulations to all participants and also to the London Cannonballs for hosting another great event, amazingly their 29th."
Next up is the Canadian Boccia Championships in Victoria, British Columbia from November 28 to December 1.
For complete results and rankings visit https://bocciacanada.ca/boccia/national-rankings-and-results/.
2019 BOCCIA BLAST QUOTES
Danik Allard
"It's my first gold medal in individual play [at Boccia Blast]. Practicing with the National Boccia Training Squad has made a big difference. Before I was better at close shots but now, I'm good wherever. I will try to keep on working hard."
Hayley Redmond
"I finished second in a really tight gold medal game. It feels pretty awesome. I've been training really hard the past couple of months and I'm happy that the results have paid off. I'm looking forward to nationals. The goal is a gold and a gold in teams this time… It's great to see the class growing. There's a lot of up-in-coming athletes and they should all keep playing."
Gaétan Lord (Performance Partner to Philippe Lord)
"For three years it was the silver medal [at Boccia Blast], last year it was gold, and now the gold again. Every year he's competed and been on the podium at Boccia Blast. We want to congratulate everyone – the national team and the Ontario team. We played against Carter Plumb who is a good young player. He understand the game of boccia very well. It's only a question of when we'll see him competing in the future."
Jonathan Manseau (Performance Partner to Joëlle Guerette)
"It's the third year that we've competed here and it's the best result we've ever had. The past two years we were in the quarterfinals. With a tournament like this it'll give her more confidence. We've seen a great progression [in Joelle's level of play]. The results, the way she plays, the way she thinks, her precision, her strategies. It has changed a lot a lot since last year."
Joshua Gautier
"I finished 4-0. My toughest competition was Gio DeSero. In the gold medal game, Gio was winning 3-1 in the fourth end, and I pushed a ball in to score two points to make it go to overtime. Gio threw first and missed by a tiny bit, and I snuck one in there and pushed it in. I only won it by half an inch."
About Boccia Canada
Boccia Canada is the boccia delivery arm of the Canadian Cerebral Palsy Sports Association (CCPSA), the National Sport Organization for the Paralympic sport of boccia. Boccia Canada is focused on providing athletes and individuals of all ages and skill with the chance to play a unique Paralympic sport. CCPSA collaborates with partners to increase the participation of Canadians with cerebral palsy and related disabilities in sport and physical activity, while leading, developing and growing boccia from grassroots, to producing World and Paralympic Champions.
About boccia
Boccia is a Paralympic sport of precision and strategy similar to lawn bowling or curling, played by athletes with Cerebral Palsy, Muscular Dystrophy and related disabilities. It is one of only two Paralympic sports that do not have an Olympic counterpart. Athletes compete in one of six sport classes based on their level and type of disability: BC1, BC2, BC3 BC4, BC5, and Open. For more information on boccia, visit http://bocciacanada.ca.
---
Media Contact
Holly Janna
Email: hjanna@bocciacanada.ca
Phone number: (613) 748-1430
Current and Future Stars Shine at London Boccia Blast