For Immediate Release
Sept 26, 2017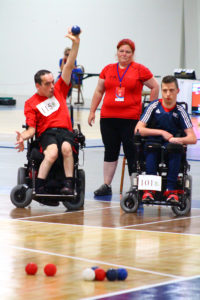 (Kansas City, USA) Team Canada won nine of thirteen games on the first day of individual play at the Kansas City World Open. If the team can carry this momentum into tomorrow things are shaping up for a positive finish to pool play.
Alison Levine (Montreal, QC) and Iulian Ciobanu (Montreal, QC) both went undefeated in the BC4 division today. It's exactly the outcome Ciobanu was looking for as he prepares to face world number fifteen Robert Durkovic of Slovakia in his last pool game.
"The objective was to win both games today because I play the best player in my pool tomorrow. If I win, I make the quarter finals."
Levine also put two solid wins on the board today. "I played steadily throughout my two matches and got the wins. I plan to continue tomorrow in the same way and then step it up for the quarter finals."
It was a slow day for the BC3's, who only had one match each. Eric Bussiére (Vercheres, QC) faced teammate Marylou Martineau (Quebec, QC) to earn his first win, while Bruno Garneau (Montreal, QC) showed resiliency in coming back from a 2-0 deficit to win against Japan's Kaede Matsunada. All three athletes remain in the hunt for playoff spots tomorrow but will be challenged by a strong field that includes Paralympic silver medallist Gregorios Polychronidis.
Eric Lefebvre also started the day with a win against a teammate, playing Josee Lamothe (Trois-Riviere,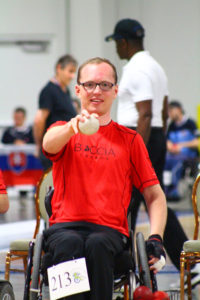 QC). His biggest challenge of the day came against world number one David Smith of Great Britain. It was a great learning experience for Lefebvre, who held Smith to five points through three ends, and was able to steal a point in the second end before ultimately losing the game 9-1.
Lefebvre, Mike Mercer (St. John's, NL) and BC4 Marco Dispaltro (St. Jerome) all finished the day with 1-1 records and need wins tomorrow to have a chance to make the quarterfinals.
"Although overall it was a good day, we'll need to be more aggressive on the jack tomorrow and use our tools a little more" said Head Coach Mario Delisle. "We're too nice. We need to try and score."
The team has another busy day tomorrow, with fifteen games on the last day of individual pool play. For complete results and schedule, see www.BISFed.com.
Daily Results
BC1:
| | | | |
| --- | --- | --- | --- |
| Eric Lefebvre | 9 | 2 | Josee Lamothe |
| Josee Lamothe | 0 | 10 | Guilherme Moraes (BRA) |
| Eric Lefebvre | 1 | 9 | David Smith (GBR) |
BC2
| | | | |
| --- | --- | --- | --- |
| Mike Mercer | 5 | 1 | Adam Dukovich |
| Mike Mercer | 1 | 7 | Bernd Meints (NED) |
BC3
| | | | |
| --- | --- | --- | --- |
| Marylou Martineau | 2 | 6 | Eric Bussiere |
| Bruno Garneau | 4 | 2 | Kaede Matsunaga (JPN) |
BC4
| | | | |
| --- | --- | --- | --- |
| Alison Levine | 5 | 1 | Jamal Bean (BER) |
| Iulian Ciobanu | 4 | 1 | Nobuyuki Takada (JPN) |
| Marco Dispaltro | 8 | 0 | Bobby Jackson (USA) |
| Alison Levine | 8 | 1 | Jose Buzzo (ARG) |
| Iulian Ciobanu | 7 | 0 | Louis Saunders (GBR) |
| Marco Dispaltro | 3 | 4 | Duban Cely (COL) |
Day 1 of Individual Competition Complete at Kansas City World Open