(Beijing, China – March 22) Team Canada played five matches on day two, coming away with two victories, while three team members are still in the running to move into the next round.
It was a turn-around day for BC4 athlete Alison Levine as she snuck in to take a 4-1 win over Ma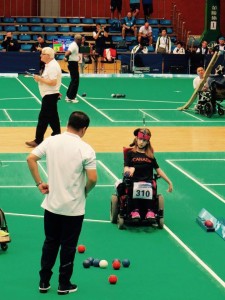 ryam Malekifalah of Iran. The victory was exciting for Levine as it keeps her in the running for the next round. She must win by 3 in her next game to advance onward in the tournament. Levine commented that she is "still in it to win" as she looks ahead to her next match.
It was a bye day for Marco Dispaltro another BC4 athlete, but with an 8-5 victory yesterday over Richard Duray of the Netherland's, it puts him in a very good position to advance to the next round. Dispaltro will take the court again tomorrow against Robert Durkovic of Slovakia.
BC3 athlete Eric Bussiere engineered an extraordinary 6-2 win over Min-Che Chen of Taiwan. Bussiere is also on the road to advance, with his final group round game being played tomorrow against Kamil Vasicek of Czech Republic.
There were some hard losses, but valuable experience gained on Day 2 for Team Canada members Adam Dukovich, Marylou Martineau and Iulian Ciobanu. All athletes played really strong games, but were unable to finish with a win. BC4 Coach César Nicolaï adds "we are very proud of all our athletes! Another big day for Team Canada as we have three of our athletes on course to advance to the next round! Go Canada Go!"
Day 2 of the Boccia 2016 World Individual Championships sees 3 Canadians in the Race for Next Round