For Immediate Release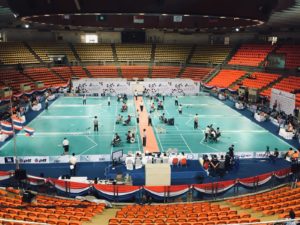 (Bangkok, TH) October 8, 2017- Marco Dispaltro (St. Jerome, QC) went undefeated on the final day of pool play to advance to the playoffs at the Bangkok World Open.
The day started against Yuexian Guang, a phenomenal young athlete from China. It was a close game, but Dispaltro pulled ahead in the tie break end to take the win.
His second match was a nail biter against Korean Seokbeop Won. After Dispaltro took an early lead, Won made a huge displacement shot in the second end to score three points. Dispaltro came back in the third end to score three himself and go into the final end with a two point lead. Won was able to score one point, but couldn't tie the game.
With the potential to be second in his pool and advance to the playoffs, Dispaltro was highly motivated to play his final pool match against 2016 Paralympic bronze medalist, Pornchok Larpyen of host country Thailand.
Playing in front of a loud home crowd, Dispaltro opened the match by stealing two points on Larypen's jack in the first end. In the second end, there was some hesitation as Larpyen took control, but Dispaltro played an amazing ball that climbed the jack to retake the point. In the third end, Larpyen scored three points to tie the game.
Dispaltro used the spectators as motivation to make a perfect displacement at seven meters and then nailed the jack. Larpyen used all six of his balls but could not dislodge Dispaltro.
"It was a really partisan crowd, very pro Thailand. In the fourth end, they really pumped me up because they cheered when I missed some shots. It angered me a bit, but usually when they anger me my focus is a little bit better."
Dispaltro continues on to the quarterfinals. Teammate Iulian Ciobanu (Montreal, QC) will not advance. After a 7-6 win against top 20 athlete Ximei Lin of China, Ciobanu faced world number 3 Yuansen Zheng and lost 8-0.
Follow the quarterfinals live tonight at 11:40 PM EST on Boccia Canada Facebook page. For a full list of results and schedule see www.BISFed.com.
Daily Results:
| | | | |
| --- | --- | --- | --- |
| Iulian Ciobanu | 7 | 6 | Ximei Lon (CHN) |
| Marco Dispaltro | 4 | 4 | Yuexiang Guang (CHN) |
| Marco Displatro | 5 | 4 | Seokbeop Won (KOR) |
| Marco Dispaltro | 4 | 3 | Pornchok Larpyen (THI) |
| Iulian Ciobanu | 0 | 8 | Yuansend Zheng (CHN) |
Dispaltro Advances to Playoffs at Bangkok World Open