For Immediate Release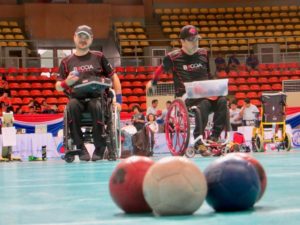 (Bangkok, TH) October 5, 2017- Marco Dispaltro (St. Jerome, QC) and Iulian Ciobanu (Montreal, QC) will head to the semi-finals tomorrow at the 2017 BISFed Bangkok World Open.
Canada secured their semi-final spot early in the tournament, after a lopsided 10-1 victory over Russia in their first game. The score didn't reflect the difficulty of this game. Russia led the game with one point after the first end, but Canada was able to come back in the second end and take control of the match.
"It wasn't our best performance, but the final result was good for us and we've qualified for the semi-finals tomorrow," said Dispaltro, adding, "We just need to do a better job with hiding the jack".
With their semi-finals berth assured, Canada then faced world number three Thailand. It was a difficult game and Canada found themselves unable to get their offense going, although they were able to play strong enough defense to limit Thailand to seven points.
"It was a hard game for Marco and Iulian. Thailand played really well and we weren't able to develop our style of play to hide the jack during this game. The most important thing is that we're advancing to the semi-finals. Tomorrow we have to show another face if we want to win against Hong Kong."
Coach Cesar Nicolai will be looking for the pair to pick up their game tomorrow in the semi-finals against world number four Hong Kong.
Medal rounds take place tomorrow. Canada plays at 9:00am (10PM EST on October 5th) against Hong Kong. For a full list of results, go to www.BISFed.com. For a live showing of the game, follow Boccia Canada on Facebook Live.
Todays Results:
Canada 10 – 1 Russia
Canada 0 – 7 Thailand
Dispaltro and Ciobanu in Semi-Finals at Bangkok World Open