For Immediate Release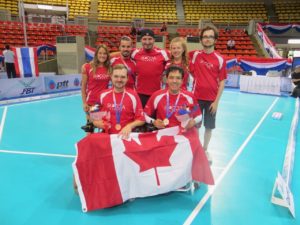 (Bangkok, TH) October 6, 2017- Marco Dispaltro (St. Jerome, QC) and Iulian Ciobanu (Montreal, QC) will be coming home with a bronze medal. Its's the first boccia medal Canada has won in Asia.
"Finally we realized our most important objective, to be on the podium," commented a pleased Ciobanu. "Of course we would like to have the gold, but we are satisfied with our result. It wasn't easy and we worked hard for this."
The win came on the heels of a tough semi-final loss to Hong Kong. After giving up five points early in the game, the Canadians made a great comeback, scoring four points in the final end, but couldn't quite force the tie.
"We belong at this level, and it's just up to us to put it together. You can't have an end at the highest level where you give up five points in the first end," acknowledged Dispaltro. "We just need to show up and make sure we cover the jack. And if we do, we are going to be really hard to beat."
Dispaltro and Ciobanu carried the momentum from their final end into the bronze medal match against Korea. It the first end was close, with plenty of balls clustered around the jack and Canada just out-touching Korea for one point. Korea then climbed the jack to make it 1-1. With his final ball, Dispaltro made really good push to land another ball in scoring position and take a 2-1 lead.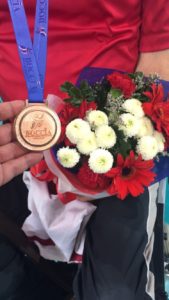 In the second end, Canada took control of the jack early and completely blocked one side of the court, making it really difficult for the Koreans to mount a good defense. Korea played a strong third and fourth end, but couldn't overcome Dispaltro and Ciobanu's defense. This marks the second pairs bronze for Canada in as many competitions, and coach Cesar Nicolai likes what he's seeing.
"I am really happy," said Nicolai. "It's awesome. It's a huge accomplishment for Marco and Iulian and for the Canadian BC4 Pair."
Tomorrow is the beginning of individual play. For a full schedule and list of results see www.BISFed.com. Follow Team Canada Live on the Boccia Canada Facebook page.
Today's Results
Semi-final:
Canada 5 6 Hong Kong
Bronze medal match:
Canada 5 2 Korea
Dispaltro and Ciobanu Win Pairs Bronze in Bangkok