For Immediate Release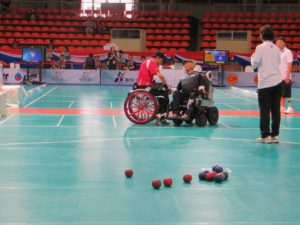 (Bangkok, TH) October 9, 2017- Marco Dispaltro's playoff run came to halt today at the Bangkok World Open. Despite playing a strong quarterfinal match against rival Hyeon-Seok Seo of Korea, Dispaltro (St.Jerome, QC) fell just short in the tiebreaker end.
"It's a little frustrating to be so close and yet so far. The two people who beat me in the tournament came first and second. This will solidify my resolve to get back to where I think I belong."
The first three ends were strategic battles, with both athletes fighting for control of the jack and trading points. Down 2-1 heading into the fourth end, Dispaltro stepped up his game. After throwing his jack to seven metres, Dispaltro quickly nailed it to put the tying point in scoring position. Seo had a difficult time reaching Dispaltro's jack and exhausted all his balls without dislodging Dispaltro's point.
At this level, it's a game of millimetres.
In the tie-break end, Dispaltro took control early, but Seo quickly bounced back. Dispaltro placed a ball in scoring position, but left just enough room for Seo to get through. Without hesitation, Dispaltro put another ball on the jack, so that each player was scoring a point. The game came down to Seo's last ball.  Seo executed a double push to win the game by one point.  Seo went on to qualify for the gold medal final, losing to Kwan Hang Wong of Korea.
"I'm really proud of Marco. He has shown he can definitely play with the best players in the world," adds BC4 coach Cesar Nicolai. "During these last two months he elevated his level of play week after week and game after game. It's looking good for the future."
This competition wraps up the international season for the Canadian Boccia Training Squad.
Daily Results:
Quarterfinals
Marco Dispaltro   2   2    Hyeon-Seok Seo (KOR)
Dispaltro Forces Quarterfinal Tie-Break at Bangkok World Open