For Immediate Release
August 19, 2017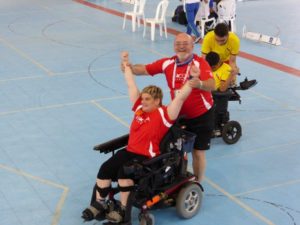 (Cali, Colombia) Eight Canadians advanced to the quarter finals at the Americas Boccia Championships.
Hanif Mawji (Burnaby, BC) and Joseé Lamothe (Trois-Rivières) both head to the quarterfinals in the BC1 classification. Lamothe took the court by storm this weekend and finished at the top of her pool. She lost only one game, against teammate Mawji, and closed pool play with a phenomenal 9-0 victory over Andres Diaz of Colombia. Lamothe now faces Jose Carlos Chagas of Brazil world number nine in the quarterfinals.
Teammate Mawji finished just behind Lamothe, winning his final pool game 3-2 against world number 18 Eduardo Ventura of Mexico. Mawji will play Roberta Leglise of Argentina tomorrow morning.
In his last pool game, Adam Dukovich (London, ON) squared off against Luis Cristaldo of Argentina with his undefeated record on the line. It was a hard fought battle, but Dukovich played strong defense and kept the point differential low to secure his playoff spot. The numbers game didn't favour his teammate Benoit Ostiguy (Montreal, QC) who will not advance.
Bruno Garneau (Montreal, QC), Philippe Lord (Montreal, QC) and Eric Bussiere (Montreal, QC) all advanced out of their pools in the BC3 classification. Lord topped his pool with an undefeated record and an amazing plus 24 points differential. He ended the day with a 14-0 victory over Jose Erices of Chile, continuing to showcase the solid and strategic style he's played all week. His quarterfinal opponent is Jesus Romero of Colombia.
Garneau also finished on top of his pool and will face Evani Calado of Brazil. while Bussiere faces off against Antonio Leme of Brazil. Bussiere is currently ranked 11th in the world, closely followed by Leme at 14th, so it promises to be an exciting match.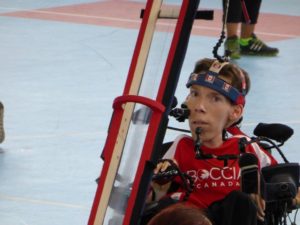 Alison Levine (Montreal, QC) continued the undefeated trend, heading into the playoffs with an incredible plus 23 point differential in the BC4 division. The heat in Cali has been a challenge for Levine, but she successfully pushed it aside to focus on her matches.
"I like being undefeated," Levine says with a shy smile. "I'm feeling awesome! I've been playing my best and the results speak to that. Tomorrow I'll be playing the best in the world, but so am I, so I'm ready!"
Dispaltro joins Levine in the quarterfinals where he faces world number 24 Euclides Grisales Diaz of Colombia.
"Having 8 athletes moving on to the quarter finals is great," comments head coach Mario Delisle. "Athletes are playing very well in individual play. It's not over yet and we now have to finish with a podium tomorrow."
Today's Results
BC1
Joseé Lamothe 1-4 Hanif Mawji
Joseé Lamothe 9-0 Andres Diaz (COL)
Hanif Mawji 3-2 Eduardo Ventura (MEX)
BC2
Benoit Ostiguy 3-3* Natali de Faria (BRA)
Adam Dukovich 1-5 Luis Cristaldo (ARG)
Benoit Ostiguy won by forfeit vs. Yushae Andrade (BER)
BC3
Philippe Lord 7-1 Jonathan Gonzalez (CHL)
Philippe Lord 14-0 Jose Erices (CHL)
Eric Bussiere 8-0 Gabriela Villano (ARG)
Bruno Garneau 2-7 Evelyn de Oliveira (BRA)
BC4
Alison Levine 8-1 Karla Manuel Enriquez (MEX)
Alison Levine 5-1 Matias Alcaino (CHL)
Marco Dispaltro 2-4 Steve Wilson (BER)
EIGHT CANADIANS ADVANCE TO QUARTER FINALS