For immediate release
August 20, 2017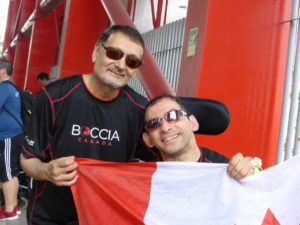 (Cali, Colombia) A challenging day for team Canada as the best in the region faced off in the quarter finals. The silver lining came when BC1 Hanif Mawji of Burnaby, British Columbia advanced to the semi-finals, the only Canadian to do so, and finished fourth.
After losing in the semi-finals to Mexican favourite Eduardo Sanchez, Mawji shook it off and was ready for the bronze medal match.
Facing his Parapan American rival, José Chagas of Brazil, Mawji was ready for the revenge match. After losing in the gold medal game in 2015 to Chagas, it was time to face him again. In the first end Mawji played a great defense. After two unsuccessful offensive shots, Mawji quickly went on defense, placing all six balls between his opponent and the jack. This secured only one lost point.
In his best end of the match, Mawji nailed the jack with his second shot sending it right through the open channel and towards his first ball. With two points secured, the turn was handed over to Chagas. Using the last of his balls, Chagas could not penetrate Mawji's set-up and ended up going on defense to limit Mawji's points. With four balls left, Mawji went for the points, but couldn't infiltrate Chagas defense securing two points heading into the third end.
With the jack in hand, Mawji threw a very good shot close to the line and in the near corner, creating a very difficult angle for Chagas. Throwing his first ball out of bounds, Mawji nailed the jack with his second securing the point. Chagas had difficulty trying to reach the jack. After throwing four balls with no success he had to resort to defense for his last few shots to try and block Mawji from getting further points. Mawji dropped his last ball knowing he had one point in the bag.
In the fourth end, Chagas played a long game, his strength. Mawji not able to reach the jack in the back corner set up a strategic defense exhausting all his balls. With only one point and five shots left for Chagas it was a tense last end. With every shot time stood still. Mawji's defense proving to be successful in the first four shots it came down to the last ball. With everyone on the edge of their seats, breath held and eyes fixated, the last ball was thrown by Chagas. With power and force Chagas pushed three of his balls into the jack scoring an extra three points on the last ball bringing the game to a 5-3 finish for Brazil.
"Right up to the last ball I was leading. Chagas pushed his last ball past my defense and took the game," says Hanif Mawji." I played my best this tournament and I'm very happy with my result. Though a podium would have been nice, I will take this as a learning opportunity to do better next time."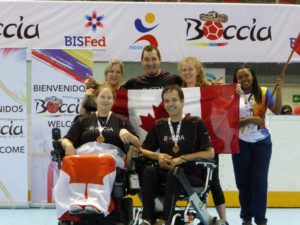 Though there were no other advancements, each athlete played one of their best games of the tournament and came away with their heads held high. Strong shots were made, defense was placed, but the games didn't come Canada's way.
"After two good days of individual play everything fell apart for us today," comments Head Coach Mario Delisle. "The athletes all had tough competition in the 1/4 final and didn't always have 4 good ends leaving the field open to opponents in key moments. We're going back to Canada with homework to do and the experience here will be a motivator because in 4 weeks from now we will be in Kansas for another international event."
The team will head next to the BISFed World Opens in Kansas City in September.
Today's results:
Quarter Finals
BC1
Adam Dukovich 0- 8 Maciel Santos (BRA)
BC2
Joseé Lamothe 1 -9  José Carlos Chagas (BRA)
Hanif Mawji 5 -0 Roberta Leglise (ARG)
BC3
Philippe Lord 0 -10 Jesus Romero (COL)
Eric Bussiere 2 -4 Antonio Leme (CRA)
Bruno Garneau 1- 7 Evani Calado (BRA)
BC4
Alison Levine 2 -3 Marcial Santos (BRA)
Marco Dispaltro 5 -7 Euclides Grisales (COL)
Semi Finals
Hanif Mawji 1 -6 Eduardo Sanchez (MEX)
Bronze Medal
Hanif Mawji 3 -5 José Chagas (BRA)
FINAL DAY FOR TEAM CANADA IN COLOMBIA