FOR IMMEDIATE RELEASE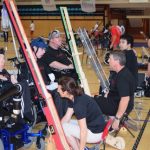 Monday June 13, 2016
(Póvoa de Varzim, PT)  Six Canadian boccia athletes are currently in Povoa de Varzim, Portugal, preparing for the first international competition of the season, and the final event before the 2016 Summer Paralympic Games in Rio.
With the Paralympics just around the corner, the World Open is an important opportunity for athletes to focus and fine tune their game in hopes of competing on the big stage in September.
BC4 athlete, Alison Levine (Montreal, QC), says that "This is the last sanctioned tournament before the Paralympics and there is going to be some high calibre play. Coming off a strong tournament in Montreal I am feeling confident. Although winning medals is great, this tournament is more about preparation for Rio so we will be paying very close attention to our opponents and our own gameplay in order to best prepare us for September."
This will be the first international competition for rookie Philippe Lord (St-Jérome, QC). Though the youngest athlete on the squad, the twenty year old earned his way on to the team with strong performances at the Canadian Boccia Championships and the 2016 selection camp. Joining Lord are veterans Marco Dispaltro (Montreal, QC), Alison Levine (Montreal, QC) and Caroline Vietnieks (Vancouver, BC) in the BC4 classification and Eric Bussière (Verchères, QC) and Paul Gauthier (Vancouver, BC) in the BC3 classification.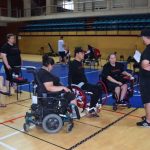 Head Coach, Mario Delisle comments, "This event is always well organized and this year many of the best athletes in the world are here to test their skills one last time before the Paralympic Games. The athletes are going to face a lot of adversity and will need to stay focused on the task throughout the event. It will be an excellent opportunity to see where we are at and to make some adjustments in the last sprint in preparing for Rio. Marco Dispaltro is certainly looking for defending the title he earned here in 2014."
Competition commences Monday June 13th and finishes June 19th and will be live-streamed at http://bocciaworldopen.com/content/live-stream.  For updated results and schedule visit http://bocciaworldopen.com/.
Team Canada
Paul Gauthier (Vancouver, BC)
Eric Bussière (Verchères, QC)
Philippe Lord (St-Jérome, QC)
Marco Dispaltro (Montreal, QC)
Alison Levine (Montreal, QC)
Caroline Vietnieks (Vancouver, BC)
Media Contact:
Jennifer Larson, Program Manager
Cell: 613-890-5101
Email: jlarson@bocciacanada.ca
FINAL PRE-PARALYMPIC BOCCIA COMPETITION SET TO BEGIN IN PORTUGAL