For Immediate Release
June 17, 2016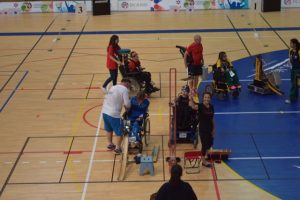 POVOA DE VARZIM- The first day of individual play at the Boccia World Open was a busy one for Canada with all six athletes in action. The team was led by Eric Bussière (Verchères, QC) and Marco Dispaltro (Montreal, QC) who both finished the day on top of their individual pools. Both Bussière and Dispaltro will move forward into the qualifying round along with BC4 teammates Alison Levine (Montreal, QC) and Caroline Vietnieks (Vancouver, BC).
In the BC3 classification, where players who are not able to throw the ball and use a ramp to play, Bussière was very strong, dominating all three of his pool games. He was able to take hold of each game, staying focused and taking his time with each calculated shot.
Looking ahead Bussière is feeling poised and ready to tackle tomorrow and is aiming for a podium finish, saying "Today everything went well for me. I took my time to observe before each shot and made sure I was making the right choices. My goal was to get out of my pool and these good results have instilled confidence in me for tomorrow. I have learned from past tournaments, and I will do my best in the round of sixteen tomorrow. My goal is to be on the podium!"
Marco Dispaltro also had a successful day, ending with two convincing victories and finishing at the top of his pool. It's a welcome return to form for the world's fifth ranked player, who had a tough tournament at the Individual World Championships in March. Dispaltro has stepped up his game and is pleased with how he has been playing this entire tournament. "I won the World Open the last time it was in Povoa and I plan to do it again!"
Alison Levine (Montreal, QC) took her first match of the day with a 5-1 victory over German player Bastian Keller. She then found herself in a tight match against Slovakian Samuel Andrejcik. Although she kept it close until the final end, Levine was unable to capitalize for a second win, but still qualified for the round of sixteen.
It was a nail-biter of a day for Caroline Vietnieks (Vancouver, BC), who drew world number three Eliseau dos Santos of Brazil for her first match. After a loss to Santos, Vietnieks was in a must-win situation in her final pool game against Evie Edwards of Great Britain. She rose to the challenge, with a narrow 5-4 victory to qualify for the round of sixteen.
After a busy day of competition, Head Coach Mario Delisle commented, "I am happy with the day and am looking forward to tomorrow. The athletes are focused and are playing well and this is what we want to see at this time of year."
The qualifying round begins on Saturday, June 18, 2016.
Today's Official Results
BC3
Caroline Vietnieks (CAN) 2  Eliseau dos Santos (BRA) 10
Marco Dispaltro (CAN) 7  Matjaz Bartol (SLO) 1
Caroline Vietnieks (CAN) 5  Evie Edwards (GBR) 4
Alison Levine (CAN) 5  Bastian Keller (GER) 1
Marco Dispaltro (CAN)  7  Ivan Frolov (RUS) 0
Alison Levine (CAN) 2  Samuel Andrejcik (SVK) 3
BC4
Paul Gauthier (CAN) 9  Carlotta Visconti (ITA) 0
Philippe Lord (CAN) 2  Sze Ning Toh (SIN) 5
Eric Bussiere (CAN) 11  Jiri Svojanovsky (CZE) 1
Paul Gauthier (CAN) 1  Patrick Wilson (GBR) 6
Philippe Lord (CAN) 1  Tanija Madsen (DEN) 5
Eric Bussiere (CAN) 11  Maksim Vasilyev (RUS) 1
Find tomorrow's qualifiers schedule at www.bocciaworldopen.com
Media Contact:
Jennifer Larson, Program Manager
Cell: 613-890-5101
Email: jlarson@bocciacanada.ca
FOUR CANADIANS ADVANCE AT BOCCIA WORLD OPEN