For immediate release
Sao Paulo, May 23 2018 –Team Canada found itself in a great position after the qualifying round at the BISFed Sao Paulo Regional Open with four athletes headed to the semi-finals.
Benoit Ostiguy (Montreal, QC) needed six points or more in his final pool game against Denisse Padilla from Mexico in order to advance. He came through in the clutch with a 7-1 win.  Ostiguy's semi-final competition proved difficult, resulting in a loss of 4-2 against Genilson Carvalho (BRA). He faces Irving Montiel Hernandez (MEX) tomorrow for the BC2 bronze medal.
Eric Bussière (Verchères, QC), Marylou Martineau (Québec, QC) and Philippe Lord (Blainville, QC) all faced must win games early this morning to determine if they would move on to the BC3 quarterfinals. Philippe Lord was eliminated from the competition with an 8-0 loss to Mateus Carvalho (BRA).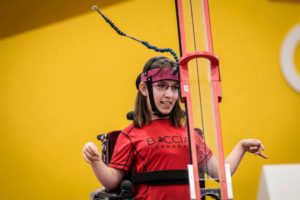 Martineau competed against the sixth world ranked player Evelyn de Oliveira (BRA) for a chance to advance to the semi-finals. In one of the closest matches that Sao Paulo has seen, these two competitors headed to sudden death overtime. The match was finally decided in favour of Oliveira, but the rivalry didn't stop there. The semi-final set Oliveira against Martineau once more. This game took quite a different turn. Oliveira stormed the court with an early 5-0 lead after the first end. Facing a steep cliff to climb, Martineau gave it a great effort but fell a little short, ultimately losing 8-3. Head Coach Mario Delisle likes the evolution he has seen from this young player. "I am extremely proud of the efforts and the growth that she has demonstrated throughout the different tournaments. Her game is now played with more precision for placement and lines," said Delisle, observing that Martineau is "an upcoming athlete to watch".
The other BC3 semi-final highlighted another Canadian, Eric Bussière against Jonathan Gonzalez (CHI). Bussière took the early lead, but in a game played with a lot of precision, moves and countermoves, a few mistakes cost him the chance at the gold medal game.
In the BC1 quarterfinal, a hard fought battle took place between Hanif Mawji (Burnaby, BC) and world number nine Eduardo Sanchez Reyes (MEX). Mawji stood his ground, and fought hard, but Reyes had a great start and finish, leaving Mawji with his first loss of the competition by a score of 4-2.
Canada is guaranteed at least one bronze tomorrow as Martineau is set to face off against teammate Bussière, and she's looking forward to it.
"I came here with an objective of reaching the top six. Today, I managed to get there and now I'll be competing for my chance at a bronze medal."
Ostiguy will face Mexico and Mawji's bronze medal opponent is from Chile.
Team and Pairs competition also begins tomorrow at 3:30pm and continues until Friday. For a full list of results and the schedule, visit www.BISFed.com. Follow live at https://www.youtube.com/watch?v=8cZ8o04pgac .
Results Summary
Qualification Rounds
BC2
Benoit Ostiguy (CAN) 7, Denisse Padilla (MEX) 1
BC3
Marylou Martineau (CAN) 4, Evelyn de Oliveira (BRA) 4
Philippe Lord (CAN) 0, Mateus Carvalho (BRA) 8
Eric Bussière (CAN) 7, Jonathan Gonzalez (CHI) 0
Semi finals
BC1
Hanif Mawji (CAN) 2, Eduardo Sanchez Reyes (MEX) 4
BC2
Benoit Ostiguy (CAN) 2, Genilson Carvalho (BRA) 4
BC3
Marylou Martineau (CAN) 3, Evelyn de Oliveira (BRA) 8
Eric Bussière (CAN) 2, Mateus Carvalho (BRA) 3
-30-
For media inquiries:
Natalie Antoine
613-608-4347
Four Canadians in Contention for Medals in Sao Paulo