For immediate release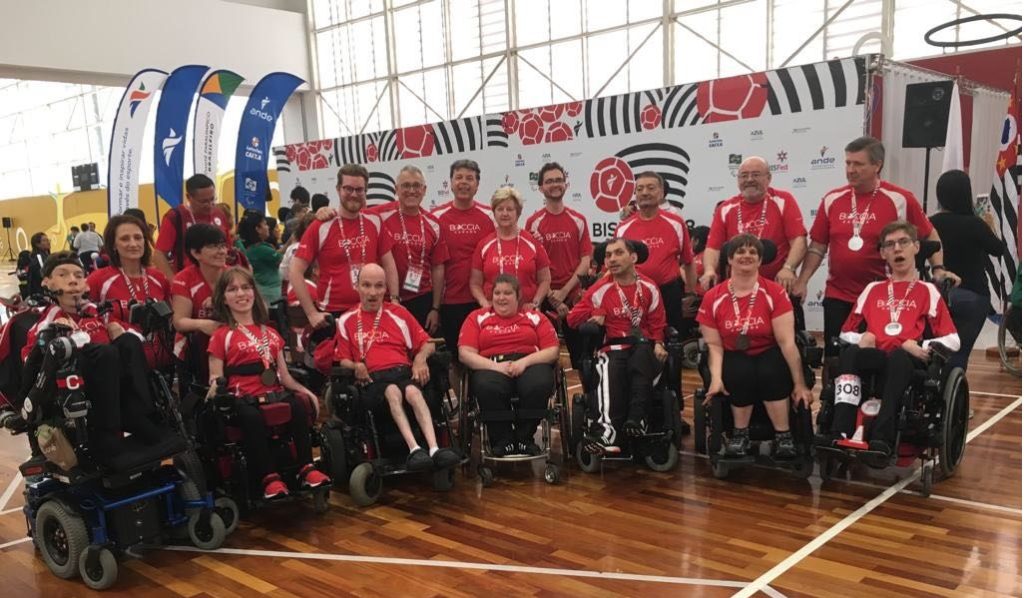 Sao Paulo, May 26, 2018 – Canada picked up silver and bronze medals on the final day of team and pairs competition at the BISFed 2018 Sao Paulo Boccia Regional Open. The BC1/BC2 team of Benoit Ostiguy (Montreal, QC), Josée Lamothe (Trois-Rivières, QC) and Hanif Mawji (Burnaby, BC) won their final match against Ecuador to secure the bronze, while the BC3 pair of Marylou Martineau (Québec, QC), Philippe Lord (Blainville, QC) and Eric Bussière (Verchères, QC) lost their final game against the powerhouse Brazilian pair.
In the BC3 pairs match, the Canadians came out strong against Brazil, scoring four points in the first end. The second end started with Canada taking a penalty, but Brazil wasn't able to fully capitalize, scoring just two points.
Things got challenging in the third end. It appeared that Canada was going to lose the end until Lord made a great power shot to remove the jack from play. This reset the match, giving Canada a better chance to grab a point. Bussière finished it off with a great ball to take the point and go into the last end leading 5-2.
Canada played a defensive last end, which proved to be a dangerous tactic against Brazil's offensive weapons. Brazil picked up three points, forcing an extra end to determine the winner. With momentum on their side, the home team stole the win and the gold with their last two shots. "We weren't able to get the last point, but even with the loss I'm very proud of my teammates Martineau and Lord" reflected Bussière. "I still consider ourselves as winners for this tournament. We learned a lot and this gives us hope and confidence for upcoming tournaments."
"The game play from the BC3 pairs against the number one ranked Brazil speaks wonders to our athlete's abilities," observed Head Coach Mario Delisle. "We could have won this game, and the confidence from this game will follow through the next few weeks of training."
The BC1/2 team faced Ecuador in their final pool game, which would also determine the bronze medal.
"Ecuador is one of the lesser known countries in boccia for us, making it difficult to prepare ahead of time" commented Coach Simon Larouche. "The team is younger, and we were impressed with some of the things that they had accomplished in their time here. We knew we had to adjust some of our tactical processes and strategies in order to be victorious."
They came in with a new game plan, ready to redeem themselves from yesterday's loss. According to Ostiguy, the turnaround can be attributed to Coach Larouche. "The challenge was well accepted and overcome with the help of our coach. He helped us as team to stay calm and to keep positive." Ostiguy also highlighted the efforts of teammates Lamothe and Mawji for their exceptional play throughout the tournament.
Canada finishes the tournament with a total of four medals; one silver and three bronze. For a full list of results from the individual, team and pairs competition, visit www.BISFed.com.
Results Summary
Team BC1/BC2
Canada 8, Ecuador 4
Pairs BC3
Canada 5, Brazil 5
-30-
For media inquiries:
Natalie Antoine
613-608-4347
Four Medals in Sao Paulo for Team Canada