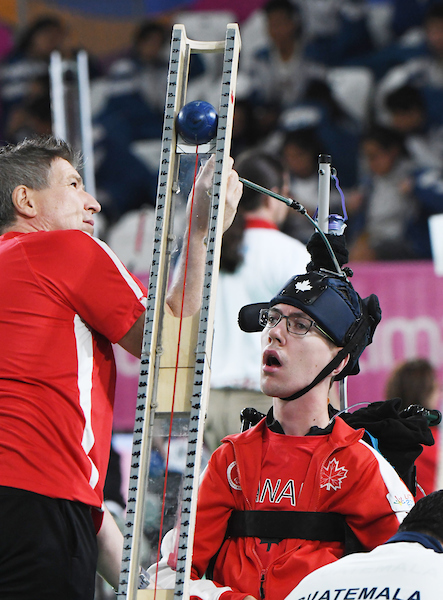 Photo: Scott Grant, Canadian Paralympic Committee
Lima, Peru (August 29, 2019) – The boccia competition for the 2019 Parapan American Games officially began with individual pool play. Day 1 included wins by all seven athletes in classes BC1, BC3, and BC4.
Hanif Mawji (Burnaby, BC) started with a loss against Argentina's Ailen Flores, but kept his playoff chances alive by winning against Yushae Desilva-Andrade from Bermuda.
There were big performances by the BC3s, including Philippe Lord (Montréal, QC) who won 9-1 against Guatemala's Eimy Losley Tánchez by capitalizing on his misplayed balls. Éric Bussière (Verchères, QC) swept Javier Edison Soto Fajardo from host, Peru 11-0. It was a game of minute precision from the 2015 Parapan Am medallist. Marylou Martineau (Québec City, QC), the youngest player on the team, was able to steal a victory from Jesus Romero of Colombia.
The four Canadian BC4s are top seeds in Lima and they certainly made their presence known. Alison Levine (Montréal, QC) made it look easy with an 11-1 win over Colombia's Leidy Chica. Iulian Ciobanu (Montréal, QC) made many strategic moves including bounce overs and ricochets to seal his first win of the Games against Argentinian Khalil Profiti. Marco Dispaltro (Sainte-Jérôme, QC) played two close games, winning one and losing the other. He is currently 3rd in his pool but could still make the playoffs with a strong performance tomorrow.
Éric Bussière (BC3) – "I'm confident that we accomplished what we had practiced. To be able to win on the field of play with the craziness of the Peru crowd… It feels good to take the win."
Iulian Ciobanu (BC4) – "I will start the next game with confidence. The person I play tomorrow is the best at this tournament in world rankings so it will be a challenge, for sure. The strategy for the next game will be interesting because he and I both use a lot of explosive power. The game will be very precise and we will be competing for every millimeter to reach the jack."
César Nicolai (BC4 Coach) – "The competition has started and it's looking really good for our team. The athletes are really focused. Alison showed a lot of confidence during her game, Marco built his confidence end after end. Iulian will be ready to fight for the first place in his pool against Grisales. It's the first game on this new playing surface so it's never easy. I believe we'll play even better in the next games."
Visit https://bocciacanada.ca/news-events/ for the most up-to-date news
Watch the livestream and keep track of the results at the 2019 Lima Parapan American Games.
About Boccia Canada
Boccia Canada is the boccia delivery arm of the Canadian Cerebral Palsy Sports Association (CCPSA), the National Sport Organization for the Paralympic sport of boccia. Boccia Canada is focused on providing athletes and individuals of all ages and skill with the chance to play a unique Paralympic sport. CCPSA collaborates with partners to increase the participation of Canadians with cerebral palsy and related disabilities in sport and physical activity, while leading, developing and growing boccia from grassroots, to producing World and Paralympic Champions.
About boccia
Boccia is a Paralympic sport of precision and strategy similar to lawn bowling or curling, played by athletes with Cerebral Palsy, Muscular Dystrophy and related disabilities. It is one of only two Paralympic sports that do not have an Olympic counterpart. Athletes compete in one of six sport classes based on their level and type of disability: BC1, BC2, BC3 BC4, BC5, and Open. For more information on boccia, visit http://bocciacanada.ca.
---
Media Contact
Holly Janna
Email: hjanna@bocciacanada.ca
Phone number: (613) 748-1430
Great Start for the National Team in Lima