For immediate release
Povoa de Varzim, PORTUGAL, July 6, 2018 – The quarterfinals proved to be a challenge for the two remaining Canadian athletes, Eric Bussière (Verchères, QC) and Marco Dispaltro (St-Jerome, QC) at the BISFed 2018 World Open Povoa de Varzim in Portugal.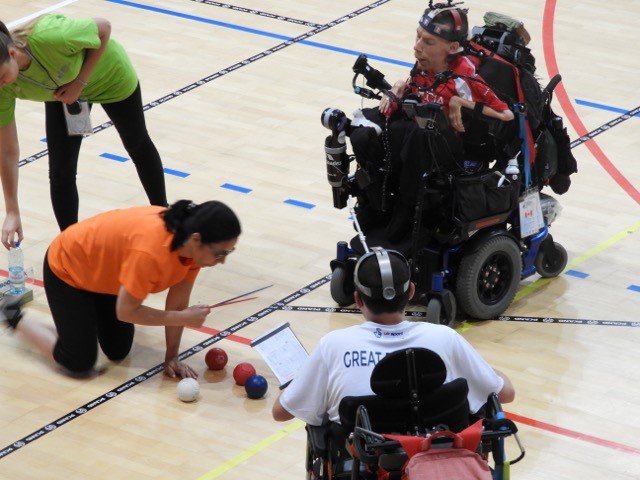 Bussière faced the second ranked BC3 player in the world and eventual silver medalist Jamie McCowan (GBR). The skilled adversary kept Bussière off the scoreboard for all four ends. Compared to the past two days of the tournament in pool play, Bussière was not as precise and missed some key shots, which helped his opponent gain confidence.
McCowan took an early lead in the first end and gained momentum the remaining ends to win the quarterfinal match by a score of 9-0, and eliminating Bussière. "We are disappointed with this loss but we can take away some positive from Eric's individual competition," noted BC3 Coach Kristin Dorrance.
Head Coach Mario Delisle added "It's disappointing because Eric played very well in the tournament and his level of confidence was high before the game. However, I am confident that Eric will be able to rebound from this game and will be up to the challenge for pairs competition beginning tomorrow."
Dispaltro started strong with three points in the first end. He had the upper hand going into the next ends, but Samuel Andrejcik (SLO), the silver medalist from Rio 2016, slowly clawed his way back to win the match 4-3. The last end was a close contest, and one point sealed Dispaltro's fate, despite playing great throughout the entire tournament. "In the last end, I had five balls left and Andrejcik only one. I decided to take different types of shots to open the game, to give myself better access to the jack. Unfortunately, it did not work and it resulted in my opponent grabbing one point for the victory," noted Dispaltro.  "I am disappointed with this result. I was close to realizing this, but now I will be finishing fifth instead of a podium finish. I really wanted to hit the podium, but its becoming harder and harder to accomplish. I have to keep my head up especially since pairs competition begins tomorrow, and I could not be more excited to compete with my teammates Alison Levine (Cote Saint-Luc, QC) and Iulian Ciobanu (Montreal, QC)".
Looking ahead to tomorrow, BC3 and BC4 pairs competition begins, and Ciobanu will make his first appearance of the tournament in Portugal. For a full list of results and schedule, visit www.BISFed.com. Follow live at https://www.youtube.com/channel/UCrL9eWqCXh185greh_oeHAg
Quarterfinals results
BC3
Eric Bussière (CAN) 0, Jamie McCowan (GBR) 9
BC4
Marco Dispaltro (CAN) 3, Samuel Andrejcik (SLO) 4
-30-
For media inquiries:
Natalie Antoine
613-608-4347
Individual competition ends in Quarterfinals for two Canadians, sights turn to Pairs event